2007 LAS VEGAS MAIN EVENT- Handicap Division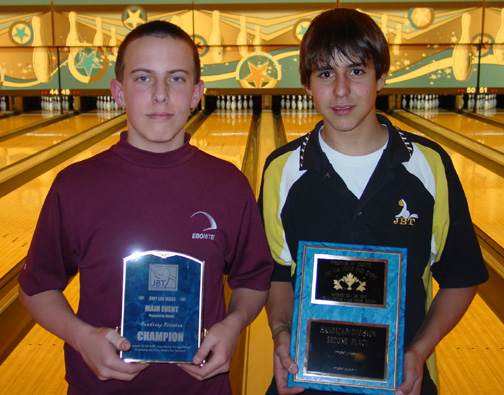 champ Billy Read & runner-up Sandy Truman
Billy Read, Albuquerque NM, captured the biggest prize of his JBT career in winning the handicap division of the 2007 Junior Bowlers Tour's Las Vegas Main Event, presented by the Ebonite International and hosted by Texas Station.
After two days of qualifying, the 167 entrants were whittled to 66 for a tense six game semifinal. The field was then chopped again, this time to 16, for our unique bracket-style stepladder finals.
In round one, two simultaneous four-way matches were held, with only the winner advancing. In those games, #12 Brian Lim, San Francisco CA, and #15 Aaron Bristow, Farmington NM, emerged victorious. The next round had two three-way games, and this time #5 Jessica Lai, San Francsico, and Lim came through with wins, narrowing the field down to 8.
In round three matches, Lim won his third match in a row, defeating #4 Robert Lim (no relation) 269-188, while #3 Kenny Herbster, Las Vegas, defeated Lai 202-191, to advance to the semifinals. IN those matches the top two seeds prevailed, as #1 Sandy Truman beat Lim 236-218, an #2 Read edged Herbster 207-201, to set up the title match.
Truman and Read are both regulars on our season-long JBT tour, marking the first time a Main Event title match had such a situation. Both bowlers have been quickly improving all season long, but in this match it was Read who stayed steadiest, winning the match 202-175 for his 3rd career JBT title and a whopping $2,000 scholarship prize, while Truman was compensated with $1,500 for the runner-up slot.

2007 LAS VEGAS MAIN EVENT-

Handicap Division Final Standings and Scholarship Winners

rank
name
city
state
winnings
1
Read, Billy
Albuquerque
NM
$2,216
2
Truman, Sandy
Phoenix
AZ
$1,516
3
Herbster, Kenny
Las Vegas
NV
$1,075
4
Lim, Brian
San Francisco
CA
$900
5
Lim, Robert
Bellflower
CA
$905
6
Lai, Jessica
San Francisco
CA
$700
7
Garriott, Andy
Scottsdale
AZ
$726
8
Cruz, Anthony
San Diego
CA
$575
9
Dacanay, Billy
San Diego
CA
$400
10
Bristow, Aaron
Farmington
NM
$446
11
Gordon, Casey
Sanger
TX
$300
12
Walker, Matthew
Atwater
CA
$250
13
Hansen, Daniel
Huntington Beach
CA
$200
14
Hayashi, Evan
Waipahu
HI
$449
15
Seawright, Jonah
Albuqerque
NM
$176
16
Francisco, Jake
San Diego
CA
$120
17
Karpovich, Kyle
Chandler
AZ
$158
18
Fritz, David
San Diego
CA
$100
19
Hatchett, Eric
Las Vegas
NV
20
Carper, Paul
Rio Rancho
NM
$32
21
Kawaye, Julie
Sacramento
CA
$240
22
Roque, Brandyn
Redlands
CA
23
Jarosz, DJ
Reedley
CA
$92
24
Raymond, Aaron
Bloomfield
NM
25
Florendo, Francis
Chula Vista
CA
26
Nagamine, Casey
Kaneohe
HI
$64
27
Goad, Kayla
Phoenix
AZ
$75
28
Badilla, Dericka
Kingman
AZ
$16
29
Brown, Trevor
Roy
UT
30
Klein, Kyle
Phoenix
AZ
31
Watkins, Andrew
Henderson
NV
$16
32
Reguero, Rebeca
Glendale
AZ
$32
33
Laws, Tevynn
Albuquerque
NM
$48
34
Hanuscin, Ian
Las Vegas
NV
35
Jaramillo, Seth
Rio Rancho
NM
36
Raymond, Mica
Bloomfield
NM
37
Staggs, Darcie
Bullhead City
AZ
$16
38
Moody, Devin
Bakersfield
CA
$24
39
Natividad, Chanelle
San Francisco
CA
$16
40
Regalado, Stephanie
Sierra Vista
AZ
41
Low, Wesley
Palmdale
CA
$96
42
Nakagawa, Keenan
Honolulu
HI
43
Kampley, Leann
Chula Vista
CA
44
Katsura, Lesliann
Norwalk
CA
$62
45
Hansen, Bradley
Huntington Beach
CA
46
Bridge, Dillon
El Paso
TX
47
Carper, Janeyl
Rio Rancho
NM
$30
48
Calabrese, Aubrey
Las Vegas
NV
$126
49
Akers, Kyle
Kingman
AZ
50
Coveris, Selena
Tucson
AZ
$8
51
Sullivan, Alicia
Kingman
AZ
$16
52
Moody, Casie
Bakersfield
CA
53
Shoup, Josh
Tolleson
AZ
54
Turner, Brandon
El Cajon
CA
55
Gervacio, Abel Jr.
Whittier
CA
56
Kenny, Mike
Prescott Valley
AZ
57
Kampley, Steven
Chula Vista
CA
58
Throne, Jeremy
Farmington
NM
$32
59
Knight, Taylor
Phoenix
AZ
$16
60
Williams, Ahkeen
Las Cruces
NM
61
Orr, Tony
Tampa
FL
62
Englehart, Scott
Chatsworth
CA
$62
63
Nguyen, Richard
San Francisco
CA
64
Benjamin, Robert
Huachuca City
AZ
65
Mercado, Adrian
San Francisco
CA
66
Nakagawa, Jonathan
Honolulu
HI
67
Ikeda, Brycen
68
Thommes, Jeremy
69
Benaventura, Justin
70
Buenaventura, Jeremy
71
Badua, Bryan
72
Benjamin, Robert
Huachuca City
AZ
73
Phandanouvong, Jenny
San Diego
CA
74
Bietman, Laura
Upland
CA
$16
75
Nguyen, Richard
San Francisco
CA
76
Nakagawa, Keenan
Honolulu
HI
77
Cordell, Tracy
Kingman
AZ
78
Goad, Jeff
Phoenix
AZ
79
Kozich, Jonathan
Las Vegas
NV
80
Dennis, Troy
Phoenix
AZ
81
Chambers, Kyle
Chandler
AZ
82
Natividad, Jordan
San Francisco
CA
$64
83
Kellogg, Andrew
Las Vegas
NV
84
Akers, Kyle
Kingman
AZ
85
Santana, Cameron
Costa Mesa
CA
86
Takahata, Janelle
Honolulu
HI
$16
87
Pendleton, Michael
Livermore
CA
88
Owen, Brandon
Las Vegas
NV
89
Salgado, Joseph
San Diego
CA
90
Mercado, Adrian
San Francisco
CA
91
Brown, Ryan
RSM
CA
92
Watkins, Aaron
Las Vegas
NV
93
Lee, Isiah
Honolulu
HI
94
Kolatzny, Brittany
San Diego
CA
95
Lonso, Shelsy
Waialua
HI
96
Loop, Karlie
Menifee
CA
$32
97
Moody, Malan
Bakersfield
CA
98
Vitzthum, Eric
Glendale
AZ
99
Oshiro, Andy
Honolulu
HI
100
Lopez, Angelic
West Covina
CA
101
Mora, Marycruz
San Diego
CA
102
Camacho, Jacob
Murietta
CA
103
Morales, Jurene
San Francisco
CA
104
Unger, Michael
Trabuco Canyon
CA
105
Cotten, Daniel
Glendale
AZ
106
Rubin, Haley
Brandon
SD
107
Peters, Shawn
Peoria
AZ
$64
108
Kemper, Dawn
Hillsboro
OR
109
Gabour, James
Las Vegas
NV
110
Olpendo, Nohelani
Waialua
HI
111
Nagasawa, Kristina
Renton
WA
112
Melnyk, Charlena
The Woodlands
TX
113
Mathis, Randy
Trabuco Canyon
CA
114
Heins, Chris
San Francisco
CA
115
Stevens, Andrew
Sierra Vista
AZ
$16
116
Nakahuni, Stacie
Honolulu
HI
117
Holliday, Isaac
Albuquerque
NM
118
Patty, Mike
Walnut Creek
CA
119
Brown, Ricky
120
Byers, Kenny Jr.
Ventura
CA
121
Chui, Kirk
El Cajon
CA
122
Huntley, Caymann
Mission Viejo
CA
123
Shiira, Shelly
Honolulu
HI
124
Hilvano, Andrew
Los Angeles
CA
125
McDonald, Marty
Walnut Creek
CA
126
Throne, Jeremy
Farmington
NM
$32
127
Smith, Marena
Lakewood
CO
128
Ailport, Amanda
Phoenix
AZ
129
Houston, Chelsea
Oxnard
CA
$32
130
Ailport, Lindsey
Phoenix
AZ
$32
131
Newton, Cameron
South Jordan
UT
132
Bautista, Anthony
National City
CA
133
Deakins, Shelley
Kaneohe
HI
134
Miller, Shannon
Las Vegas
NV
$16
135
Stern, Drew
Northridge
CA
136
Uyehara, Shawnna
Aiea
HI
137
Atherton, Robert
Glendale
AZ
138
Jarosz, Danielle
Reedley
CA
$142
139
Morales, Marikris
San Francisco
CA
140
Malacky, Brandon
Aurora
CO
141
Galsim, Godfrey
Sunland
CA
$134
142
Kojima, Robert
Santa Barbara
CA
143
Csanyi, Douglas
Las Vegas
NV
144
Baker, Bethany
Tempe
AZ
$16
145
Martin, Jaymie-Rae
Kapolei
HI
146
Allen, Austin
Mililani
HI
147
Meyers, Samantha
Mission Hills
CA
148
Cando, Anthony
San Diego
CA
149
Dukes, Kimberley
San Diego
CA
150
Akana, Daniel
Aiea
HI
151
Wu, Jessica
Sacramento
CA
152
Quiles, Sherlyn
San Francisco
CA
153
Vadnais, Amanda
Prescott
AZ
154
Zimmerman, Joe
Vail
AZ
155
Holliday, Michael
Albuquerque
NM
156
Humphrey, Sarah
Costa Mesa
CA
157
Florendo, Bryan
Chula Vista
CA
158
Mares, Mark
Los Lunas
NM
159
McCoy, Nick
Kingman
AZ
160
Jaramillo, Brianna
Los Lunas
NM
161
Kurzeka, Susan
Albuquerque
NM
162
Regalado, Joshua
Sierra Vista
AZ
163
Ray, Taylor
Las Vegas
NV
164
Reynolds, Tabetha
Lancaster
CA
165
Metzer, Joseph
Tucson
AZ
166
Brown, Ricky
RSM
CA
167
Zimmerman, Clara
Vail
AZ