Below is a quicker synopsis of the 2007 Main Event. Full permission is granted to use all or part of this article- in fact, please do share it with your local papers, etc. If anything gets published, however, we'd love for you to send us a copy.
Baker, Read, Hesley win 2007 JBT Main Event;
$55,842 in scholarships awarded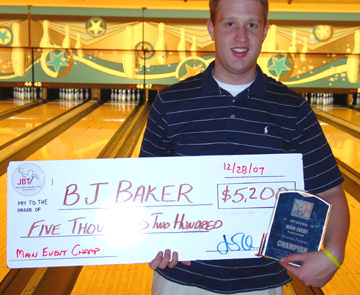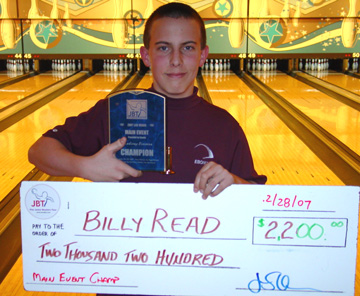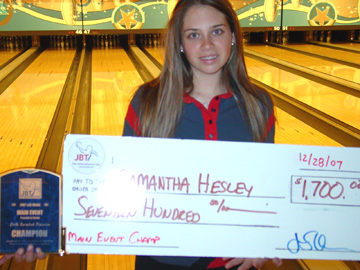 (l-r) Open Scratch champ BJ Baker, Handicap champ Billy Read, and Girls Scratch champ Samantha Hesley
Junior Bowlers from 23 states took part in the 2007 Junior Bowlers Tour Las Vegas Main Event, presented by Ebonite International and hosted at Texas Station. BJ Baker, Tempe AZ, captured the $5,000 first place scholarship in the scratch division, Billy Read, Albuquerque, won $2,000 for winning the handicap division, and Samantha Hesley, Wellington FL, took home $1,500 for winning girls' scratch. $55,842 in scholarships was awarded to the near-sellout field.
In the Open Scratch division quarterfinals, the higher seeds prevailed, as #4 Mark French, Ventura CA, beat #8 Tucker Clark, Sperry OK, 196-177, and #3 Chris Hillman, Pleasanton CA, beat #5 Sam Cuevas, Lubbock TX, 220-178. The story was the same in the semifinal, as top seed Baker ousted French 218-200, and #2 Andrew Koff, Miami FL, eliminated Hillman 222-148.
A thrilling and contrasting title match then ensued between Baker, a 21 year-old lefthander with a 'tweener' style, and the only 16 year-old Koff, a righthanded cranker playing left of the sixth arrow on the drying lanes. Koff was in the Main Event title match as a 14 year-old two years ago, and a missed corner pin early in that match ended up costing him the win. Stunningly, it happened again this year, as a missed 10-pin in the ninth frame ended up giving Baker a chance to strike in the tenth frame to win, which BJ did, giving him a 219-213 victory and the enormous $5,000 first place scholarship prize.
The win was the 25th of Baker's incredible JBT career (2nd all-time), and also pushed him over the $30,000 mark in career JBT earnings (also 2nd). Koff's not so bad $3,000 runner-up prize puts him near the $7,500 mark in Main Event earnings.
In handicap division stepladder action, Brian Lim, San Francisco CA, won his third match in a row, defeating #4 Robert Lam, Bellflower CA, 269-188, while #3 Kenny Herbster, Las Vegas, defeated #5 Jessica Lai, San Francisco, 202-191, to advance to the semifinals. In those matches the top two seeds prevailed, as #1 Sandy Truman, Phoenix AZ, beat Lim 236-218, and #2 Billy Read edged Herbster 207-201, to set up the title match.
Truman and Read are both regulars on our season-long JBT tour, marking the first time a Main Event title match had such a situation. Both bowlers have been quickly improving all season long, but in this match it was Read who stayed steadiest, winning the match 202-175 for his 3rd career JBT title and a whopping $2,000 scholarship prize, while Truman was compensated with $1,500 for the runner-up slot.
In round one of the girls scratch stepladder, #5 Alyse McGinnes, the 2004 Girls Scratch champion, defeated #8 Ashley Belden, Tijeras NM, a former JBT Bowler of the Year, 222-179, while at the same time #6 Amanda Falk, Tucson AZ, ousted #7 Caycee Landers, Ventura CA, 191-183. In round two, both higher seeds were upset, as McGinness, La Crescenta CA, eliminated #3 April Urban, Henderson NV, 206-184, and Falk ousted 2005 Main Event champ Danielle Schilling, Ventura, 168-151.
In the semifinal matches, #2 Hesley defended her seed with a 233-215 win over Falk, but top seed Bryanna Caldwell, Tucson, was upset by McGinnes, 202-171, setting up a #2-#5 title match.
McGinnes was looking to become the first bowler to win two Main Event titles, but in a closely contested title match, it was Hesley who emerged with the 183-177 win, and a $1,500 champion's scholarship prize, while McGinnes settled for $1,200 for the runner-up spot.
186 bowlers received a scholarship prize, with BJ Baker's $5,956 was high for the event. All three winners rolled Ebonite balls for the win, adding $200 each to their scholarship total. Six total 300 games were rolled on the relatively challenging conditions, a Main Event record. It took a 208 average for 8 games to make it to the semifinals in scratch, and 194 for girls scratch. Huge thanks to Texas Station GM Jerry Francomano for a terrific hosting job, and Ebonite International for supporting the JBT tour all season long. be sure to check out www.bowljbt.com for all the final results and much, much more.
2007 Las Vegas Main Event

Scratch Division Final Standings and Scholarship Winnings

rank
name
city
state

winnings

1
Baker, BJ
Tempe
AZ
$5,956
2
Koff, Andrew
Miami
FL
$3,352
3
Hillman, Chris
Pleasanton
CA
$2,100
4
French, Mark
Ventura
CA
$1,532
5
Cuevas, Sam
Lubbock
TX
$1,000
6
Clark, Tucker
Sperry
OK
$900
7
Monteith, JR
Orange
CA
$996
8
Allred, Brandon
Las Vegas
NV
$716
9
Pelow, JD
Westminster
CA
$600
10
Pepe, Anthony
Queens
NY
$792
11
McBride, Joshua
Wichita
KS
$1,190
12
Torres, Richard
Antioch
CA
$500
13
Pixley, Michael
Sacramento
CA
$804
14
DeCaluwe, Andy
Mt. Prospect
IL
$612
15
Hiraoka, Robert
Daly City
CA
$564
16
Behunin, Jordan
Ogden
UT
$516
2007 LAS VEGAS MAIN EVENT-

Handicap Division Final Standings and Scholarship Winners

rank
name
city
state
winnings
1
Read, Billy
Albuquerque
NM
$2,216
2
Truman, Sandy
Phoenix
AZ
$1,516
3
Herbster, Kenny
Las Vegas
NV
$1,075
4
Lim, Brian
San Francisco
CA
$900
5
Lai, Jessica
San Francisco
CA
$875
6
Lim, Robert
Bellflower
CA
$700
7
Garriott, Andy
Scottsdale
AZ
$726
8
Cruz, Anthony
San Diego
CA
$575
9
Dacanay, Billy
San Diego
CA
$400
10
Bristow, Aaron
Farmington
NM
$446
11
Gordon, Casey
Sanger
TX
$300
12
Walker, Matthew
Atwater
CA
$250
13
Hansen, Daniel
Huntington Beach
CA
$200
14
Hayashi, Evan
Waipahu
HI
$449
15
Seawright, Jonah
Albuqerque
NM
$176
16
Francisco, Jake
San Diego
CA
$120
2007 LAS VEGAS MAIN EVENT-

Girls Scratch Final Standings and Scholarship Winners

rank
name
city
state
winnings
1
Hesley, Samantha
Wellington
FL
$1,886
2
McGinnes, Alyse
La Crescenta
CA
$1,246
3
Caldwell, Bryanna
Tucson
AZ
4
Falk, Amanda
Tucson
AZ
5
Urban, April
Las Vegas
NV
1000
6
Schilling, Danielle
Ventura
CA
850
7
Landers, Caycee
Mission Hills
CA
616
8
Belden, Ashley
Tijeras
NM
9
Muther, Kelsey
Topeka
KS
432
10
Signaigo, Suzana
Aiea
HI
460
11
Koizumi, Jordeen
Waipahu
HI
250
12
Kreighbaum, Rachel
Battle Ground
WA
200
13
Hurst, Melissa
Derby
KS
150
14
Galganski, Dayna
North Palm Beach
FL

15
Goll, Felicia
St. Clair Shores
MI
8
16
Rubin, Ashley
Brandon
SD
186