BUENA LANES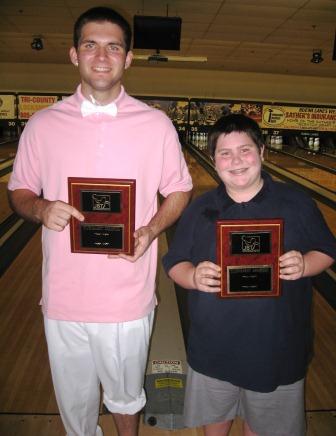 champs Ronnie Fujita & Matthew Green
Ronnie Fujita wore pink, while Matthew Green was tickled pink, as each won JBT titles in exciting Southern California Conference action at Ventura's Buena Lanes.
34-time champ Cameron Smith opened the scratch division stepladder finals with a 225-163 win over Mark Myers. Smith then edged Luke Holley in a low scoring battle 181-153. Fujita then came on to defeat Smith 233-174 to advance to the title match.
Top seed Ashley Dunn was the toast of the scratch division all day, using a 270 game to help her easily top the field on a challenging pattern. However, Fujita seemed to be getting stronger, and despite a few great split conversions from Dunn, Ronnie cruised to a 214-179 win, and the fourth title of his JBT career, keeping him alive in the Bowler of the Year race.
Clint Strawmyer began the handicap division finals with a 195-171 win over first time finalist Secilia Kalvelage. Strawmyer then got past Shelby Dempsey 210-189, before Marguerite Evans stopped Strawmyer 190-170 to move on to the title game.
Top seed Matthew Green took over in game five and never looked back. In a close title match, Green edged Evans 212-199, good for the first title of Matthew's career, while Marguerite endures another runner-up finish.
Brittany Kolatzny upset Dunn 185-174 to win the Impact Bowling JBT Women's Series event. It's her third win, qualifying her for the JBT Girls TPC this July.
Big thanks to Zweig Family Dental for their sponsorship of this event, which helped us award almost $1,700 in scholarships to bowlers of all averages and ages.
Buena Lanes- final results and scholarship winners
5/12/2012
Scratch Division
rank
bowler

prize

1
Ronnie Fujita
$405
2
Ashley Dunn
$155
3
Cameron Smith
$85
4
Luke Holley
$50
5
Mark Myers
$40
6
Aaron Foshie
7
Kyle Duster
8
Wesley Low
9
Shane Peck
$15
10
Oscar Chan
$30
11
Jordan Ferrer
12
Curtis Lindeman
13
Skyler Johnson
14
Darwin Eusebio
15
Brittany Kolatzny
16
Cortez Schenck
$60
17
Ben Canfield
18
Derek Acuff
19
Adam Dubia
20
Joe Lewandowski
21
Riley Dempsey
22
Courtney Schultz
23
Matt Zweig
24
Mark Hugelmaier
25
Justin Sims
26
Bobby Hornacek
27
Michael Ma
28
Marina Stever
29
Chelsea Houston
30
Adam Seligman
Handicap Division
1
Matthew Green
$295
2
Marguerite Evans
$215
3
Clint Strawmyer
$60
4
Shelby Dempsey
$55
5
Secilia Kalvelage
$30
6
Greg Adler
$30
7
Shauna Schultz
$30
8
Jarred Eusebio
9
Kennison Andrews
10
Julian Zavala
11
Trenton Romleski
$10
12
Megan Carlson
$35
13
Leah Zweig
$8
14
Justin Patten
$38
15
Javier Zavala
16
Kylie Shishisma
17
Taylor Berry
18
Kyle Andrews
$15
19
Stephanie Zavala
20
Eric Phillips
$15
21
Trevor Thompson
22
Austin Thompson
23
Rance Dvorak
24
McKenna George
25
Alexis Atkin
26
KJ Martinez
27
Brooke Martinez
28
Kyli Selley
High Games
Scratch
Handicap
1
Dunn 270
Green 283
2
Acuff 267
Evans 267
3
Low 258
Carlson 266
4
Dunn 256
Ken. Andrews 265
5
Myers, Duster 255
Dempsey 254
High Female
1
Dunn +164
2
Kolatzny -26*
3
Evans -39
4
Kalvelage -56
5
Dempsey -70
Round Leaders
Scratch
Handicap
1
Low
Dempsey
2
Myers
Dempsey
3
Dunn
Dempsey
4
Dunn
Evans
5
Dunn
Green
6
Dunn
Green
7
Dunn
Green
8
Dunn
Green
TOTAL AWARDED THIS EVENT: $1,696