2004 Storm Las Vegas Main Event- Open Scratch Division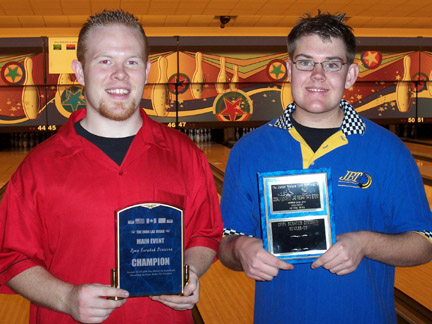 champion PJ Haggerty and runner-up Cayson Coyle
In a field full of big names, one of the biggest names in junior bowling, PJ Haggerty, emerged victorious in the 2004 Storm Las Vegas Main Event, presented by the Junior Bowlers Tour Southwest.
The unique finals featured a format that is part stepladder, part bracket. In round one, #8 seed Ashkan Tahvildaran bowed out to the #5 qualifier Joshua Schmehl, 190-156. In simultaneous action, #7 seed Steven Black, the holder of 30 JBT SW titles, defeated #6 Nathan Panaligan, one of JBT SW's up and coming starts, 211-205.
In round two, #4 seed Robert Donovan came on to defeat Schmehl 209-187. In the other round two match, Black took out another superstar, #3 seed Ivan Miyasato, in another close match, 214-204.
In round three, both top seeds upheld their position. Top qualifier Cayson Coyle upended Donovan, 213-169, while #2 Haggerty stopped Black's run, 203-168.
It's appropriate that the title match came down to Cayson and PJ, as they had outbowled the field in the grueling format under challenging conditions to earn the top two seeds. A very tense and well-bowled title match came down to the tenth frame, where Haggerty threw the strike he needed to lock out Coyle. The 211-190 final score gave Haggerty his first JBT SW title, and a huge payday of $3,315 in scholarships.
Final Standings and Scholarship Winnings
| | | | | | | | |
| --- | --- | --- | --- | --- | --- | --- | --- |
| no. | name | city | state | position | brackets | squad ldr. | total $ |
| 1 | Haggerty, PJ | Clovis | CA | 3000 | 315 | | $3,315 |
| 2 | Coyle, Cayson | Las Vegas | NV | 2000 | 45 | | 2045 |
| 3 | Donovan, Robert | Canby | OR | 1500 | | 100 | 1600 |
| 4 | Black, Steven | Phoenix | AZ | 1000 | 390 | | 1390 |
| 5 | Miyasato, Ivan | Aiea | HI | 900 | 85 | | 985 |
| 6 | Schmehl, Josh | Fairchild AFB | WA | 800 | 30 | 100 | 930 |
| 7 | Panaligan, Nathan | North Las Vegas | NV | 700 | | | 700 |
| 8 | Tavildaran, Ashkan | Lake Forest | CA | 600 | | | 600 |
| 9 | Buckley, Erick | Madera | CA | 500 | 30 | | 530 |
| 10 | Fritsch, Chris | Ventura | CA | 350 | | | 350 |
| 11 | Shiira, Scott | Honolulu | HI | 350 | 60 | | 410 |
| 12 | French, Mark | Ventura | CA | 175 | | | 175 |
| 13 | Sherman, Mason | Moorpark | CA | 175 | | | 175 |
| 14 | Jordan, Dakota | Anderson | SC | 125 | 30 | | 155 |
| 15 | Schmehl, Nicholas | Fairchild AFB | WA | 100 | 15 | | 115 |
| 16 | Haverland, William | Round Rock | TX | 100 | | | 100 |
| 17 | LeRoy, Shaun | Colorado Springs | CO | 100 | | | 100 |
| 18 | Schwartz, Philip | Oro Valley | AZ | 100 | 15 | | 115 |
| 19 | Lawrence, Jared | Redondo Beach | CA | 100 | 30 | | 130 |
| 20 | Jensen, Christian | Chandler | AZ | | 60 | 100 | 160 |
| 21 | Weier, Cameron | Fed Way | WA | | | | |
| 22 | Carmichael, Brian | Moreno Valley | CA | | | | |
| 23 | Peterson, Kevin | San Pedro | CA | | 30 | | 30 |
| 24 | Woolard, Curtis | Keizer | OR | | | | |
| 25 | Kurtze, Steven | Colorado Springs | CO | | | | |
| 26 | Olson, Evan | Burien | WA | | 375 | | 375 |
| 27 | Douthit, Theo | San Diego | CA | | 75 | 100 | 175 |
| 28 | Jones, Chris | | | | | | |
| 29 | Sevier, David | Gilbert | AZ | | 195 | | 195 |
| 30 | Hara, Dustin | Pearl City | HI | | | | |
| 31 | Grant, Sean | Eloy | AZ | | | | |
| 32 | Ramirez, Joseph | Bakersfield | CA | | 45 | | 45 |
| 33 | Ahmad, Adam | Shoreline | WA | | | | |
| 34 | Hiyane, Cy | Aiea | HI | | | | |
| 35 | Kravitz, Darren | Rowlett | TX | | | | |
| 36 | O'Dwyer, David M. | Lompoc | CA | | | | |
| 37 | Holland, Treico | Richmond | CA | | 15 | | 15 |
| 38 | Keily, Michael | Brighton | CO | | | | |
| 39 | Ashley, Robyn | Farmington | NM | | | | |
| 40 | Uyehara, Chad | Aiea | HI | | | | |
| 41 | McGinnes, Brandon | La Crescenta | CA | | | | |
| 42 | Cale, Charles | Lakeland | FL | | 45 | | 45 |
| 43 | Carnate, Lanndyn | Glendale | AZ | | | | |
| 44 | Dutcher, Jason | Moorpark | CA | | | | |
| 45 | Geiger, David | Carson City | NV | | | | |
| 46 | Byer, Andy | Albuquerque | NM | | 75 | | 75 |
| 47 | Florez, Jerod | Bosque Farms | NM | | | | |
| 48 | Crossley, Dayton | Compton | CA | | 30 | | 30 |
| 49 | Arnold, Jason | Phoenix | AZ | | 30 | | 30 |
| 50 | Blanchard, Josh | Upland | CA | | 60 | | 60 |
| 51 | Council, Ryan | Ventura | CA | | | | |
| 52 | Mizo, Jarret | Honolulu | HI | | 15 | | 15 |
| 53 | Sloan, DJ | Las Vegas | NV | | | | |
| 54 | Genovesi, Tony | Kerrville | TX | | 25 | | 25 |
| 55 | Young, Geoffrey | Denton | TX | | 45 | | 45 |
| 56 | Donnelly, Brandon | Lake Havasu City | AZ | | | | |
| 57 | Jensen, Curtis | Fremont | CA | | | | |
| 58 | Fairall, Brett | Silverdale | WA | | 45 | | 45 |
| 59 | Clune, Matt | San Diego | CA | | 55 | | 55 |
| 60 | Soper, Jonden | Lake Havasu City | AZ | | | | |
| 61 | Poggi, Corey | Santa Maria | CA | | | | |
| 62 | Browning, Dustin | Colorado Springs | CO | | 15 | | 15 |
| 63 | Spiesman, Jeff | Ventura | CA | | | | |
| 64 | Vitug, Jeremy | Hayward | CA | | | | |
| | | | | | | | |
| --- | --- | --- | --- | --- | --- | --- | --- |
| 65 | Clark, Tucker | Sperry | OK | | 15 | | 15 |
| 66 | Kurtz, Steven | Colorado Springs | CO | | | | |
| 67 | Sae-Aee, Berman | San Diego | CA | | | | |
| 68 | Valmonte, kevin | La Verne | CA | | | | |
| 69 | Ray, Johnny | Las Vegas | NV | | | | |
| 70 | Banta, Matt | Longwood | FL | | | | |
| 71 | How, Randy | Milwaukie | OR | | 120 | | 120 |
| 72 | Richardson, Garrett | | | | | | |
| 73 | Waltman, Kenny | Tokeland | WA | | | | |
| 74 | Watanabe, Daniel | Bakersfield | CA | | | | |
| 75 | Allred, Brandon | Las Vegas | NV | | 15 | | 15 |
| 76 | Inafuku, Kellen | Mililani | HI | | | | |
| 77 | Ogata, Keisuke | Santa Barbara | CA | | | | |
| 78 | Husted, Cory | Clackamas | OR | | | | |
| 79 | Goldschen, Jared | Santa Barbara | CA | | | | |
| 80 | Carroll, Daniel | Seattle | WA | | | | |
| 81 | Green, Paul | San Diego | CA | | | | |
| 82 | Orozco, Jaime | Santa Ana | CA | | 15 | | 15 |
| 83 | Ailstock, John | Laughlin | NV | | | | |
| 84 | Cripe, Michael | Lakeside | CA | | 45 | | 45 |
| 85 | Anwar, Vaseem | Honolulu | HI | | 50 | | 50 |
| 86 | Shoemaker, Matthew | Camarillo | CA | | | | |
| 87 | Foley, Patrick | Sparks | NV | | | | |
| 88 | Kertis, Leif | Allen | TX | | 90 | | 90 |
| 89 | Nagamine, Kyle | Kaneohe | HI | | | | |
| 90 | Dias, Alex | Lafayette | CO | | | | |
| 91 | Hoge, Will | Sand Springs | OK | | | | |
| 92 | Shpall, Zeke | Palo Alto | CA | | | | |
| 93 | Cormack, Matt | Woodland Hills | CA | | 15 | | 15 |
| 94 | Pirtle, James | Waipahu | HI | | 15 | | 15 |
| 95 | Christensen, Scott (CO) | Evergreen | CO | | | | |
| 96 | Malan, Kevin | Palmdale | CA | | 15 | | 15 |
| 97 | Jackson, William | Layton | UT | | | | |
| 98 | Garner, Mike | Hot Springs | AR | | 15 | | 15 |
| 99 | Stewart, Blake | Sandy | UT | | 15 | | 15 |
| 100 | Anderson, Joseph | Avondale | AZ | | | | |
| 101 | Christensen, Scott (CA) | Ripon | CA | | | | |
| 102 | Ayres, Matt | Bend | OR | | | | |
| 103 | Huber, Scott | Phoenix | AZ | | | | |
| 104 | Bidwell, Devin | Simi Valley | CA | | | | |
| 105 | Reinfried, Justin | Phoenix | AZ | | | | |
| 106 | Shirlock, Shelby | Lake Elsinore | CA | | | | |
| 107 | Majdanski, Bobby | Las Vegas | NV | | | | |
| 108 | Casillas, Estevan | North Platte | NE | | | | |
| 109 | Crane, Brian | San Jose | CA | | | | |
| 110 | Torres, Richard | Antioch | CA | | 15 | | 15 |
| 111 | Norton, Bryan | Cypress | CA | | | | |
| 112 | Bivins, Jarryd | San Juan | CA | | | | |
| 113 | Kural, Hasan | Glendale | AZ | | | | |
| 114 | Kenery, Justin | San Francisco | CA | | | | |
| 115 | Scherbak, Taylor | Lincoln | NE | | | | |
| 116 | Foster, Cameron | Taylorsville | UT | | | | |
| 117 | Glover, Jeremy | Los Angeles | CA | | | | |
| 118 | Leseberg, Brian | Ventura | CA | | | | |
| 119 | Trombatore, Jared | Littleton | CO | | | | |
| 120 | Marin, Joseph | Oxnard | CA | | | | |
| 121 | Ono, Jasen | Pearl City | HI | | | | |
| 122 | Aguilar, Ryan | Baldwin Park | CA | | 15 | | 15 |
| 123 | Hayashida, Brent | Honolulu | HI | | | | |
| 124 | Michaelsen, Patrick | San Jose | CA | | | | |
| 125 | Reyes, Juan Manuel | Daly City | CA | | | | |
| 126 | Hamamura, Shaun | Mililani | HI | | | | |
| 127 | Miles, Clayton | Portland | OR | | 30 | | 30 |
| 128 | Schaub, Eddie | Las Vegas | NV | | | | |
| 129 | Baker, BJ | Tempe | AZ | | | | |
| 130 | Souza, Edward | Pacifica | CA | | | | |
| 131 | Mathews, Brandon | Santa Maria | CA | | | | |
| 132 | Weyrauch, Chris | Tempe | AZ | | 15 | | 15 |
| 133 | Brooks, Andy | Albuquerque | NM | | 15 | | 15 |
| 134 | Montoya, Alex | Westminster | CO | | | | |
| 135 | Walsh, DJ | Dakota City | NE | | | | |
| 136 | Harris, Matthew | Norwalk | CA | | | | |
| 137 | Lovins, Matt | Tulsa | OK | | | | |
| 138 | Dancel, Anthony | El Monte | CA | | | | |
| 139 | Marshall, Autin | Newport | OR | | | | |
| 140 | Goldstein, Joey Jr. | South San Francisco | CA | | | | |
| 141 | Myrick, G.T. | Vista | CA | | | | |
| 142 | Villegas, Darin | Aiea | HI | | | | |
| 143 | Tatrow, Kevin | Wahiawa | HI | | | | |
| 144 | Pixley, Derek | Sacramento | CA | | | | |
| 145 | Hidani, Darren | Mililani | HI | | 30 | | 30 |
| 146 | Inafuku, Keene T. | Mililani | HI | | | | |
| 147 | Kagawa, Chris | Las Vegas | nv | | | | |
| 148 | Ballard, Brian | San Diego | CA | | | | |
| 149 | Schiffelbein, Randal | Topeka | KS | | | | |
| 150 | Deeter, Thomas | Aiea | HI | | | | |
| 151 | Wagner, Keith | Tucson | AZ | | | | |
| 152 | Hitchcock, Sam | Lake Forest | CA | | | | |
| 153 | Honculada, Philip | Houston | TX | | | | |
| 154 | Sherman, Brandon | San Diego | CA | | | | |
| 155 | Smith, Mike | Chandler | AZ | | | | |
| 156 | Locicero, James | Fremont | CA | | | | |
| 157 | Shindo, Grant | Waipahu | HI | | | | |
| 158 | Green, Nathan | Clovis | CA | | | | |
| 159 | Mochuzuki, Peter | | | | | | |
| 160 | Leach, Cody | Salem | OR | | | | |
| 161 | Ingram, Chris | Phoenix | AZ | | | | |
| 162 | Dittrich, Harry | Layton | UT | | | | |
| 163 | Weamer, Edward | Concord | CA | | | | |
| 164 | Pixley, Michael | Sacramento | CA | | | | |
| 165 | Phillips, Jesse | Goleta | CA | | | | |
| 166 | Jackson, William | Gardena | CA | | | | |
| 167 | Warschauer, Jason | Riverside | CA | | | | |
| 168 | Haney, Christopher | Oxnard | CA | | | | |
| 169 | Lehman, Garrett | Honolulu | HI | | | | |
| 170 | Yee, Ivan | San Francisco | CA | | | | |
| 171 | Trute, Michael | Minden | NV | | | | |
| 172 | Cote, Randy | Tucson | AZ | | | | |
| 173 | Redd, Shawn | Sunnyvale | TX | | | | |
| 174 | Arellano, David | Palmdale | CA | | | | |
| 175 | Bratton, Buster | Voncalla | OR | | | | |
| 176 | Porritt, Patrick | Vista | CA | | | | |
| 177 | Wiltfang, Jerimiah | Lake Havasu City | AZ | | | | |
| 178 | Rolin, Robert | Topeka | KS | | | | |
| 179 | Dias, Shane | Kapolei | HI | | | | |
| 180 | Taylor, Shawn | Clinton | UT | | | | |
| 181 | Van Kalsbeek, Zachary | Ventura | CA | | | | |
| 182 | Cossey, Matt | Henderson | NV | | | | |
| 183 | Cooper, Nathan | Minden | NV | | | | |
| 184 | Morman, Kyle | Layton | UT | | | | |