LABRIEL LEACH MEMORIAL ARIZONA DOUBLES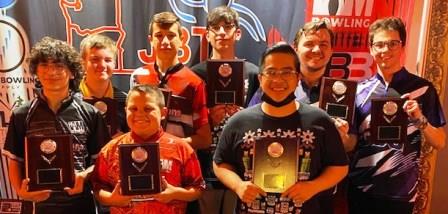 champs & finalists
A Nevada team and an Arizona team picked up JBT titles in exciting action at the popular annual AZ Doubles, this year honoring 10-time champ Labriel Leach, who we lost earlier this year.
The Baker-format scratch division stepladder finals began with Josh Molloy and Nick Barrieault outscoring Katelyn Abigania and Clay Rees 248-237. In an all-GCU second round, Josh and Nick again emerged victorious, this time over Mathew Adragna and Anthony Scharton. Top seeds Andrew Guba and Cerell Cardines were a formidable duo, with Andrew already winning twice this season, and Cerell coming off that five-title finish to his JBT career. It looked like Barrieault and Molloy had the answer to stop them and climb the ladder, but a tenth frame open flipped the match the other way, and a relieved Andrew and Cerell took home the title, the 4th and 23rd of their respective careers.
The mother-son team of Kristen and Connor Meliska opened up the handicap stepladder with a 216-143 win over first-time finalists Everett Parker and Jeremy Lorenzo. A close second match saw Max Diaz-Gonzalez and Caden Rose squeezing by the Meliskas 163-156. That left top seeds London Reyes and Caden Henk, who had bowled great en route to leading five of seven rounds. However, they could not find the same look they had all day, and Max and Caden took advantage with a good enough game to win their first career JBT titles each.
As part of remembering Labriel, a large addition to the day's raffle and prize fund was organized by Beezy's good friend Bryanna Cote. Huge thanks to her and the many alumni and adults who always come back to bowl with today's JBT kids and make this a special day annually on the JBT calendar. Thanks also of course to Jodi, Tiffani, and the team at Mesa for their usual great hosting job. Want in on all this fun for all skill levels? Just check out our upcoming schedule and come on down!
Labriel Leach Memorial AZ Doubles- final results and scholarship winners
12/10/2022
Scratch Division
rank
bowler
prize
bowler
prize
total
1
Andrew Guba
$600
Cerell Cardines
$600
2
Josh Molloy
$215
Nick Barrieault
$245
$460
3
Mathew Adragna
Anthony Scharton
$250
$250
4
Katelyn Abigania
$200
Clay Rees
$200
5
Shane Smith
$150
Matt Zweig
$150
6
Kyle Ponzo
$63
Josh Williams
$123
$186
7
Hunter Mayes
$80
Cesar Padilla
$90
$170
8
Amarr Bryant
$80
Xavier Ignacio
$80
9
Ryan Zent
John Conaway
10
Matthew Garrett
$45
Daunte Uribarri
11
Harper Schmidt
$28
Shawn Wood
12
Brandon Rother
Jason Gootzeit
13
Bailey Knight
Brian Schamber
14
Kendall Bollea
Josh Blanchard
15
Chris Mayes
Derek Acuff
16
Jadeyn Mabry
Cortez Schenck
17
Josh Burnett
CJ Todeschi
18
Keith Ylvisaker
Robert Ylvisaker
19
Cayden Matherly
Greg Scheetz
20
Brendan Bobersky
Nathan Tidball
$15
21
Ben Lafoon
$59
Riley Dempsey
22
Ian Silva
Jonathan Goldberg
23
Juan Canez
Joey Burke
24
Brock Bivins
Josh Abigania
25
Caden Meliska
Jeremy McElliott
26
CJ Henery
Mike Turley
27
Alex Hartman
$15
Chris Lellos
$29
28
Conor Bell
Jeff Bell
29
Kaitlyn Hammer
Payton Workman
30
Mackenzie Paige
Mike Mayes
31
Tayler Clark
Kalyn Arthurs
32
Sebastian Huffman
JP Griffin
33
Grant Keller
Liam Bakalich
34
Drew Merrell
Wes Cunningham
35
Max Premeau
Josh Anthony
36
Dylan Donahue
Wesley Low
37
Noel Hernandez
Corbin Reid-Hirsch
38
Jon Verde
JT Verde
39
Kenny Odra
Wyatt McCollum
40
Robert Lawrence
Thomas Lawrence
41
Travis Jonovich
Kaitlyn Pennington
42
Jacob Ellis
Mason Langhans
Handicap Division
1
Max Diaz-Gonzalez
$300
Caden Rose
$300
$600
2
London Reyes
$200
Caden Henk
$200
$400
3
Connor Meliska
$250
Kristen Meliska
$250
4
Everett Parker
$100
Jeremy Lorenzo
$100
$200
5
Jaden Workman
$75
Davi Page
$75
$150
6
Quinten Bell
$50
Paityn Gaines
$50
$100
7
Gabriel Ortega
Amy Hammer
8
RJ Pointon
Richard Kasting Jr
9
Araceli Hunt
Isaiah Pino
10
Ian Holzwarth
Greg Holzwarth
11
Evelynn Bollea
Derick Bollea
12
Cameron Sager
Rachel Sager
13
Briella Bullard
Koryn Marquez
14
Leoj Chin
Lathan Chin
$58
$58
15
Hannah Hughes
Jazmyn Meinhardt
16
Stone Martak
James Ochoa
17
gage Wallace
Josh DiGangi
18
Susan Meinhardt
Nikki Meinhardt
19
Cameron Coleman
$40
Micah Coleman
$40
20
Kieran Roth
$15
Joe Reguero
$15
21
Joshua Pasinski
Viet Ho
22
Madeleine Serafini
Bryanna Cote
23
Gage Baker
Lindsay Greim
24
Conner Pendergrass
Amy Pendergrass
25
Thomas Glass
Tommy Glass
26
Peyton Lee
$15
Tracy Lee
$15
27
Aiden Ruiz-Jimenez
Kristen Ruiz-Jimenez
28
Kyler Harden
Skip Harden
29
Jon Abigania
Jake King
30
Abigail Hunt
Miguel Espinoza
31
Gary Roff
Asher Toberer
32
Alexander Huges
Keegan Olson
33
Abigail London
Alex London
34
Connor Haven-Barker
Sarah Haven
High Games
Scratch
Handicap
1
Bryant 278
Pino 271
2
Guba 268
Serafini 267
3
Uribarri 268
Co Meliska 266
4
Scharton 266
C Coleman 262
5
Scharton 259
E Bollea 258
Round Leaders
Scratch
Handicap
1
K Abigania / Rees
Q Bell / Gaines
2
K Abigania / Rees
L Reyes / Henk
3
K Abigania / Rees
L Reyes / Henk
4
Guba/Cardines
Diaz-Gonzalez/Rose
5
K Abigania / Rees
L Reyes / Henk
6
K Abigania / Rees
L Reyes / Henk
7
K Abigania / Rees
L Reyes / Henk
TOTAL AWARDED THIS EVENT: $4,156
This event is near sellout. Please contact us asap to reserve a spot or make any changes!
click here for the Doubles events flyer
Date: Saturday December 10, 2022 (This is ONE doubles tournament that is one day long. Teams may be youth-youth OR youth-adult. 'Adult' is anyone 22 or over as of 8/1/22).
Start Time: Bowling begins at 11 AM.
Re-entries?: There's only one qualifying squad, so there are no re-entries this event..
Reservations: Please email director@bowljbt.com to reserve a spot. You can prepay (not required) at the 'Prepaying' section of this website. Reservations (paid or unpaid) must check in no later than 15 minutes before start time. At that time, all bowlers will be taken on a first come, first serve basis until the field is full.
Format: Partner may be another junior OR an adult ('adult' means anyone 22 or over as of 8/1/22). Qualifying round is 4 team games. The top 40% bowl a 3 game semifinals. The top 4 then do a Baker-format stepladder finals. Bowlers may practice with any ball they want, but then must declare three balls to use for the rest of the event.
Divisions/ Averages: Scratch or handicap. It is the teams' choice of division, except that teams over 400 must bowl scratch. If this is your first JBT event this season, we will be asking for average info. In most cases, your highest average from any current form of organized competition of at least 15 games is what we need. If you bowl in multiple leagues / clubs, bring everything and we'll sort it out for you. If you don't have 15+ games in any organized competition this season, we need your finishing 21-22 average, and any 2022 summer averages. After your first JBT event, your average is re-rated before every JBT event according to JBT rules. Please see JBT Rule 13 for complete details.
Points: This event counts for AZ and All-Conference points. Points qualify you for the big money season-ending Invitationals and Touring Players Championship, so get all you can. Visit the 'statistics' section of the website to check on your points. As the end of the season, the top 32 in AZ points, plus anyone who had a top-4 finish in an AZ event this season, advance to their respective Invitationals.
Entry fee: $80 per team. Youth scholarship brackets are available for $2 each. Separate adult singles cash brackets are $5 each. Raffle tickets for Ebonite bowling balls, and our PowerBowl and '27' jackpots, are available on-site.
Sponsor Incentive bonuses: 1) IAM Bowling: Bowlers making the final match of an event (scratch or handicap) wearing an IAM patch (good), any IAM shirt (better), or an IAM JBT shirt (best) earn point bonuses towards a $5,000 IAM incentive jackpot. (The IAM patch is requested to be worn by all bowlers). 2) Virtue Bowling: Bowlers making the final match of an event (scratch or handicap, win or lose), using a Virtue Bowling shirt or patch, and a Virtue drilled ball, earn a $25 Virtue gift card.
Covid details: JBT events follow- at least- all local Covid safety protocols, which you must be prepared for. Please stay posted so you're not surprised about anything required of you.
Scholarships: 1:6 in each division earn scholarships, scratch and handicap. Minimum prizes are $400, $200, $150, $100. Bowlers must finish in the top 4 once this season to qualify for that conference's Invitational, which features $1,000 for first place. Bowlers who finish in the top 20 in a conference's points race, or the top 100 in all-conference points, qualify for the Touring Players Championship, featuring $2,500 for first.
Lane conditions: conditions vary from event to event, and are not posted prior to the event (unless otherwise announced). Some events do not post the pattern until after qualifying. Be ready for anything- it makes you a better bowler! Check out previous patterns and corresponding cut scores at the 'lane conditions' section of this website.
Dress code: Anything goes EXCEPT tank tops, hats, gym shorts, clothing promoting alcohol, drugs, or firearms, or excessively ripped or short clothing, subject solely to the director's discretion. However, bowlers wearing slacks or dress shorts/skirts, and a 'name shirt' or PBA-style 'dye-sub' shirt, or college or high school team shirt, earn an extra 10 points on their season-long points total. If you're not sure about dress code, check with us. If you're new to us, the vast majority of the bowlers do dress in the 'bonus' dress code, and those points become very important, so plan accordingly.
RESERVED BOWLERS:
This reservation is an expectation that you will be bowling. PLEASE do not forget to contact us if you need to cancel or adjust your reservation. Repeated 'no-shows' may result in you not being able to reserve a spot. This list may not be updated after the Friday of the event as we travel, etc.
This event is near sellout. Please contact us asap to reserve a spot or make any changes!
| | | | |
| --- | --- | --- | --- |
| no. | bowler | partner | Sat 11 AM |
| 1 | Abigania, Jon | King, Jake | x |
| 2 | Abigania, Katelyn | Rees, Clay | x |
| 3 | Meliska, Connor | ? | x |
| 4 | Adragna, Matt | Scharton, Connor | x |
| 5 | Baker, Gage | Greim, Lindsay | x |
| 6 | Bell, Connor | Bell, Jeff | x |
| 7 | Bell, Quinten | Gaines, Paityn | x |
| 8 | BIvins, Brock | Abigania, Josh | x |
| 9 | Bobersky, Brendan | Tidball, Nathan | x |
| 10 | Bollea, Evelynn | Bollea, Derrick | x |
| 11 | Bollea, Kendall | Blanchard, Josh | x |
| 12 | Bryant, Amarr | Ignacio, Xavier | x |
| 13 | Burnett, Josh | Todeschi, CJ | x |
| 14 | Canez, Juan | Burke, Joey | x |
| 15 | Chin, Leoj | Chin, Lathan | x |
| 16 | Clark, Tayler | Arthurs, Kalyn | x |
| 17 | Coleman, Cameron | Coleman, Micah | x |
| 18 | Diaz-Gonzalez, Max | Rose, Caden | x |
| 19 | Donahue, Dylan | Low, Wesley | x |
| 20 | Ellis, Jacob | Langhans, Mason | x |
| 21 | Fincham, Danielle | Fincham, Devin | x |
| 22 | Garrett, Matthew | Uribarri, Daunte | x |
| 23 | Gaudern, Daniel | Lozano, Adela | x |
| 24 | Glass, Thomas | Glass, Tommy | x |
| 25 | Guba, Andrew | Cardines, Cerell | x |
| 26 | Hammer, Amy | Ortega, Gabriel | x |
| 27 | Hammer, Kaitlyn | Workman, Payton | x |
| 28 | Harden, Kyler | Harden, Skip | x |
| 29 | Hartman, Alex | Lellos, Chris | x |
| 30 | Henry, CJ | Turley, Mike | x |
| 31 | Hernandez, Noel | Reid-Hirsch, Corbin | x |
| 32 | Holzwarth, Ian | Holzwarth, Greg | x |
| 33 | Huffman, Sebastian | Griffin, JP | x |
| 34 | Hughes, Alexander | Olson, Keegan | x |
| 35 | Hughes, Hannah | Meinhardt, Jazmyn | x |
| 36 | Hunt, Abigail | Espinoza, Miguel | x |
| 37 | Hunt, Araceli | Pino, Isaiah | x |
| 38 | Molloy, Josh | Barrieault, Nick | x |
| 39 | Jonovich, Travis | Pennington, Kaitlyn | x |
| 40 | Keller, Grant | Bakalich, Liam | x |
| 41 | Knight, Bailey | ? | x |
| 42 | Laffoon, Ben | Dempsey, Riley | x |
| 43 | Lawrence, Robert | Lawrence, Thomas | x |
| 44 | Lee, Peyton | Lee, Tracy | x |
| 45 | London, Abigail | London, Alex | x |
| 46 | Mabry, Jadeyn | Schenck, Cortez | x |
| 47 | Marquez, Koryn | Bullard, Briella | x |
| 48 | Martak, Stone | Ochoa, James | x |
| 49 | Matherly, Cayden | ? | x |
| 50 | Matthies, Land | ? | x |
| 51 | Mayes, Chris | Acuff, Derek | x |
| 52 | Mayes, Hunter | Padilla, Cesar | x |
| 53 | Meinhardt, Susan | Meinhardt, Nikki | x |
| 54 | Meliska, Caden | McElliott, Jeremy | x |
| 55 | Merrell, Drew | Cunningham, Wesley | x |
| 56 | Odra, Kenny | McCollum, Wyatt | x |
| 57 | ? | Canez, Rene | x |
| 58 | Paige, Mackenzie | Mayes, Mike | x |
| 59 | Parker, Everett | 'Jeremy'... | x |
| 60 | Pasinski, Joshua | Ho, Viet | x |
| 61 | Pendergrass, Conner | Pendergrass, Amy | x |
| 62 | Pointon, RJ | Kasting, Richard Jr | x |
| 63 | Ponzo, Kyle | Smith, Shane | x |
| 64 | Premeau, Max | Taylor, Dylan | x |
| 65 | Rees, Lizzy | Miric, Sara | x |
| 66 | Rees, Nic | Ferrell, Manny | x |
| 67 | Reyes, London | Henk, Caden | x |
| 68 | Roff, Gary | Toberer, Asher | x |
| 69 | Roth, Kieran | Reguero, Joe | x |
| 70 | Rother, Brandon | Gootzeit, Jason | x |
| 71 | Ruiz-Jimenez, Aiden | Ruiz-Jimenez, Kristen | x |
| 72 | Sager, Cameron | ? | x |
| 73 | Schmidt, Harper | Johnson, Alec | x |
| 74 | Serafini, Madeleine | Cote, Bryanna | x |
| 75 | Silva, Ian | ? | x |
| 76 | Smith, Shane | Zweig, Matt | x |
| 77 | Verde, JT | Verde, Jon | x |
| 78 | Wallace, Gage | DiGangi, Josh | x |
| 79 | Workman, Jaden | Page, Davi | x |
| 80 | Ylvisaker, Keith | Ylvisaker, Robert | x |
| 80 | Zent, Ryan | Conaway, John | x |
| | | | |
| | WAITING LIST | | |
| 1 | | | |
| 2 | | | |
| 3 | | | |
| 4 | | | |