SO CAL DOUBLES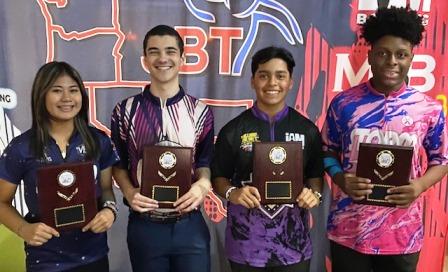 Katelyn Abigania, Solomon Salama, Daniel Rios, Aarin Shepard
A jam packed event that was only the first of three on the weekend saw two talented teams emerge victorious at the So Cal Doubles, hosted by Bowlium Lanes in Montclair.
A former CA Doubles winning team, Zach Greim and Elias O'Hollaren. began a climb up the baker-format stepladder finals with a 225-202 win over Matt Morita and Marc Sanwo. Zach and Elias were then able to get past Josh Abigania and Bobby Campagnale to reach the title match. With a huge crowd watching, the title match against top seeds Katelyn Abigania and Solomon Salama was a thriller. When Zach struck out in the tenth (which was his FIFTEENTH consecutive strike), Salama had a chance to do the same to grab the win away. As he has so many times before, Solomon was up to the task, flushing a double for the 34th win of his JBT career, and already Katelyn's sixth.
The team of Daniel Rios and Aarin Shepard began the handicap division stepladder with a 249-205 win over Gage Baker and his teammate- aka Dad- Mark Baker. Daniel and Aaron then got past JP Griffin and Akayla Orosco 238-214 to advance to the title match. Top seeds Stephanie Hong and Jerry Wang had bowled great all day, but six consecutive 9-counts were too much to overcome, as Rios and Shepard won the final, each earning their first career JBT title.
Big thanks to Al and his team at Bowlium for all their hard work in hosting a huge tripleheader. Want in on this fun? Just check out our upcoming schedule and come on down!
So Cal Doubles- final results and scholarship winners
11/26/2022
Scratch Division
rank
bowler
prize
bowler
prize
total
1
Solomon Salama
$295
Katelyn Abigania
$270
$565
2
Zach Greim
$175
Elias O'Hollaren
$175
$350
3
Josh Abigania
$250
Bobby Campagnale
$250
4
Matt Morita
$200
Marc Sanwo
$200
5
Brandon Rother
$90
Bryce Nakunz
$75
$165
6
Manny Ferrell
$50
Sebastian Huffman
$50
$100
7
Dominic Montoya
$40
Tyler Castronova
$40
$80
8
Aaron Calica
Zane Piper
9
Gavin Fernandez
$100
Jay Fernandez
$100
10
Grant Keller
Josh Molloy
$44
$44
11
Daniel Hong
Leoj Chin
12
Cerell Cardines
Jennifer Loredo
13
Andrew Guba
Mac Kaurin
14
Nic Rees
Lizzy Rees
15
Benaihah McElroy
$8
Justin Erickson
$8
16
Jerod Adkins
Ernest Mota
17
Wyatt McCollum
Ken Odra
18
Allex Zieg
Michael Marmolejo
19
Luke Brown
Alejandra Urrutia
20
Lindsay Greim
Nathan Tidball
$45
$45
21
Kyler Orosco
Anthony Schanen
22
Adrian Yamanoha
Tyler Salverda
23
Jaclyn Azvedo
Brandon Howard
24
Allison Azvedo
Jayson Boyce
25
Stephen Abkin
Prestin Frazee
26
Brock Bivins
Terron McElroy
27
Rick Soro
Ashley Soto
28
Martin Velasco
Dominic Fisher
29
Hayden Fernandez
JR Barczyszyn
30
Dylan Donahue
Andy Clark
31
Pamela Faller
Jeremy Tuazon
32
Ivan Ceballos
Jazmyn Beck
33
Ryan Bass
Dan Bass
34
Henry Lee
Joseph Sarreal Jr
35
Brent Purugganan
Lamaki Welch
36
Connor Steelmon-Hill
Roman Miller
Handicap Division
1
Daniel Rios
$270
Aarin Shepard
$250
$520
2
Stephanie Hong
$175
Jerry Wang
$175
$350
3
JP Griffin
$133
Akayla Orosco
$125
$258
4
Gage Baker
$230
Mark Baker
$230
5
James McGough
$75
Hannah McGough
$75
$150
6
Ethan Chambers
$50
Nicholas Hockman
$50
$100
7
Jai Kankariya
$40
Neel Kankariya
$40
$80
8
Nicholas Harnit
$40
Nathan Harnit
$69
$109
9
Chase Simmons
Jake Brown
10
Nathan Chambers
Stephen Lee
11
Jayden Macias
Mikey Villareal
12
Justin Albert
Kyle Reed
13
Richard Delgado
Anthony Garcia
14
Ethan Soto
Brian Reed
15
Caden Sham
Justo Sham
16
Cameron Velasco
Juan Cortes
17
Stone Martak
James Ochoa
18
Brendan Bobersky
$15
Britton Keene
$15
19
Devin Montoya
Angela Montoya
20
Garrett Purugganan
Callista Bigornia
21
Porfirio Jimeno III
Porfirio Jimeno
22
Miranda Emery
Daniel Giegoldt
23
Derek Lee
Nikka Lee
24
Kaili Purugganan
Lathan Chin
$15
$15
25
Kaitlyn Griffin
$14
Ian Fiel
$14
26
Joshua Yamauchi
David Yamauchi
27
Jesus Gutierrez
Jesse Gutierrez
28
Clay Rees
Sara Miric
29
Ethan Santos
Jamie Ferry
30
Troyace Powers
Gabriel Regpala
31
Yuron Henkels
Ryleigh Smyth
32
Wiley Eubanks
Andre Eubanks
33
Ronnie Castillo
Naomi Yamauchi
34
Jon Abigania
Joe Smith
35
Kaitlynn Yukihiro
Brayden Kimura
36
Jason Weed
$30
Greg Goodrich
$30
37
Drew Yamatsuka
Samuel Chun
38
Tyler Weitzman
Hilary Weitzman
39
Eddie Torres
Max Torres
40
Xander Velasco
Alex Velasco Jr
High Games
Scratch
Handicap
1
Kaurin 288
Shepard 272
2
A Calica 269
J McGough 270
3
O'Hollaren 269
J Wang 267
4
Salama 267
K Griffin 267
5
Nakunz 267
3 tied with 266
Round Leaders
Scratch
Handicap
1
Guba/Kaurin
Purugganan/Bigornia
2
Morita/Sanwo
Baker/Baker
3
K Abigania/Salama
Baker/Baker
4
K Abigania/Salama
Baker/Baker
5
J Abigania/ Campagnale
J Griffin/A Orosco
6
K Abigania/Salama
S Hong/J Wang
TOTAL AWARDED THIS EVENT: $3,778
click here for the Doubles events flyer
This event is sold out and on a wait list. Please email director@bowljbt.com to get on the list, or for any changes to the reserved list below!
Date: Saturday November 26, 2022 (This is ONE doubles tournament that is one day long. Teams may be youth-youth OR youth-adult. 'Adult' is anyone 22 or over as of 8/1/22).
Start Time: Bowling begins at 11 AM.
Re-entries?: There's only one qualifying squad, so there are no re-entries this event..
Reservations: Please email director@bowljbt.com to reserve a spot. You can prepay (not required) at the 'Prepaying' section of this website. Reservations (paid or unpaid) must check in no later than 15 minutes before start time. At that time, all bowlers will be taken on a first come, first serve basis until the field is full.
Format: Partner may be another junior OR an adult ('adult' means anyone 22 or over as of 8/1/22). Qualifying round is 4 team games. The top 40%, to a maximum of 48 total teams, then bowl a 2 game semifinals. The top 4 then do a Baker-format stepladder finals. Bowlers may practice with any ball they want, but then must declare three balls to use for the rest of the event.
Divisions/ Averages: Scratch or handicap. It is the teams' choice of division, except that teams over 400 must bowl scratch. If this is your first JBT event this season, we will be asking for average info. In most cases, your highest average from any current form of organized competition of at least 15 games is what we need. If you bowl in multiple leagues / clubs, bring everything and we'll sort it out for you. If you don't have 15+ games in any organized competition this season, we need your finishing 21-22 average, and any 2022 summer averages. After your first JBT event, your average is re-rated before every JBT event according to JBT rules. Please see JBT Rule 13 for complete details.
Points: This event counts for So Cal and All-Conference points. You earn points in the division in which your team competes. Points qualify you for the big money season-ending Invitationals and Touring Players Championship, so get all you can. Visit the 'statistics' section of the website to check on your points. As the end of the season, the top 32 in So Cal points, plus anyone who had a top-4 finish in a So Cal event this season, advance to their respective Invitationals.
Entry fee: $80 per team. Youth scholarship brackets are available for $2 each. Separate adult singles cash brackets are $5 each. Raffle tickets for Ebonite bowling balls, and our PowerBowl and '27' jackpots, are available on-site.
Sponsor Incentive bonuses: 1) IAM Bowling: Bowlers making the final match of an event (scratch or handicap) wearing an IAM patch (good), any IAM shirt (better), or an IAM JBT shirt (best) earn point bonuses towards a $5,000 IAM incentive jackpot. (The IAM patch is requested to be worn by all bowlers). 2) Virtue Bowling: Bowlers making the final match of an event (scratch or handicap, win or lose), using a Virtue Bowling shirt or patch, and a Virtue drilled ball, earn a $25 Virtue gift card.
Covid details: JBT events follow- at least- all local Covid safety protocols, which you must be prepared for. Please stay posted so you're not surprised about anything required of you.
Scholarships: 1:6 in each division earn scholarships, scratch and handicap. Minimum prizes are $400, $200, $150, $100. Bowlers must finish in the top 4 once this season to qualify for that conference's Invitational, which features $1,000 for first place. Bowlers who finish in the top 20 in a conference's points race, or the top 100 in all-conference points, qualify for the Touring Players Championship, featuring $2,500 for first.
Lane conditions: conditions vary from event to event, and are not posted prior to the event (unless otherwise announced). Some events do not post the pattern until after qualifying. Be ready for anything- it makes you a better bowler! Check out previous patterns and corresponding cut scores at the 'lane conditions' section of this website.
Dress code: Anything goes EXCEPT tank tops, hats, gym shorts, clothing promoting alcohol, drugs, or firearms, or excessively ripped or short clothing, subject solely to the director's discretion. However, bowlers wearing slacks or dress shorts/skirts, and a 'name shirt' or PBA-style 'dye-sub' shirt, or college or high school team shirt, earn an extra 10 points on their season-long points total. If you're not sure about dress code, check with us. If you're new to us, the vast majority of the bowlers do dress in the 'bonus' dress code, and those points become very important, so plan accordingly.
RESERVED BOWLERS:
This event is sold out and on a wait list. Please email director@bowljbt.com to get on the list, or for any changes to the reserved list below!
This reservation is an expectation that you will be bowling. PLEASE do not forget to contact us if you need to cancel or adjust your reservation. Repeated 'no-shows' may result in you not being able to reserve a spot. This list may not be updated after the Friday of the event as we travel, etc.
| | | | |
| --- | --- | --- | --- |
| no. | bowler | partner | Sat 11 AM |
| 1 | Abigania, Jon | Smith, Joe | x |
| 2 | Abigania, Josh | Campagnale, Bobby | x |
| 3 | Abigania, Katelyn | Salama, Solomon | x |
| 4 | Abkin, Stephen | Frazee, Prestin | x |
| 5 | Adkins, Jerod | Mota, Ernest | x |
| 6 | Azvedo, Allison | Boyce, Jason | x |
| 7 | Azvedo, Jaclyn | Howard, Brandon | x |
| 8 | Baker, Gage | Baker, Mark | x |
| 9 | Bass, Ryan | Fredericks, Andrea | x |
| 10 | Bivins, Brock | ? | x |
| 11 | Bobersky, Brendan | Keene, Britton | x |
| 12 | Brown, Luke | ? | x |
| 13 | Calica, Aaron | Piper, Zane | x |
| 14 | Cardines, Cerell | Loredo, Jennifer | x |
| 15 | Castillo, Ronnie | Yamauchi, Naomi | x |
| 16 | Ceballos, Ivan | Beck, Jazmyn | x |
| 17 | Chambers, Ethan | Hockman, Nicholas | x |
| 18 | Chambers, Nathan | Lee, Stephen | x |
| 19 | Delgado, Richard | Garcia, Anthony | x |
| 20 | Donahue, Dylan | Clark, Andy | x |
| 21 | Emery, Miranda | Giegoldt, Daniel | x |
| 22 | Eubanks, Wiley | Eubanks, Andre | x |
| 23 | Faller, Pamela | Tuazon, Jeremy | x |
| 24 | Fernandez, Gavin | ? | x |
| 25 | Fernandez, Hayden | Barczyszyn, JR | x |
| 26 | Ferrell, Manny | Huffman, Sebastian | x |
| 27 | Greim, Lindsay | Tidball, Nathan | x |
| 28 | Greim, Zach | O'Hollaren, Elias | x |
| 29 | Griffin, JP | Orosco, Akayla | x |
| 30 | Griffin, Kaitlyn | Fiel, Ian | x |
| 31 | Guba, Andrew | Kaurin, Mac | x |
| 32 | Gutierrez, Jesus | Gutierrez, Valerrhe | x |
| 33 | Harnit, Nicholas | Harnit, Nathan | x |
| 34 | Henkels, Yurom | Smyth, Ryleigh | x |
| 35 | Hong, Daniel | Chin, Leoj | x |
| 36 | Hong, Stephanie | Wang, Jerry | x |
| 37 | Jimeno, Porfirio | Jimeno, Porfirio | x |
| 38 | Kankariya, Jai | Kankariya, Neel | x |
| 39 | Keller, Grant | Molloy, Josh | x |
| 40 | Kollstedt, Mason | Thomas, John | x |
| 41 | Lee, Derek | Lee, Nikka | x |
| 42 | Macias, Jayden | Villareal, Mike | x |
| 43 | Martak, Stone | Ochoa, James | x |
| 44 | Massengale, Tasia | Patterson, Christopher | x |
| 45 | McCollum, Wyatt | Odra, Ken | x |
| 46 | McElroy, Benaiah | Erickson, Justin | x |
| 47 | McGough, James | McGough, Hannah | x |
| 48 | Miller, Roman | Ruiz, Peter | x |
| 49 | Montoya, Devin | Monotoya, Mom | x |
| 50 | Montoya, Dominic | Castronova, Tyler | x |
| 51 | Morita, Matt | Sanwo, Marc | x |
| 52 | Orosco, Kyler | Schanen, Anthony | x |
| 53 | Powers, Troyace | Regpala, Gabriel | x |
| 54 | Purugganan, Brent | Peavey, Mark | x |
| 55 | Purugganan, Garrett | Bigornia, Calista | x |
| 56 | Purugganan, Kaili | Chin, Lathan | x |
| 57 | Reed, Kyle | Albert, Justin | x |
| 58 | Rees, Clay | Miric, Sara | x |
| 59 | Rees, Nic | Rees, Lizzy | x |
| 60 | Rios, Daniel | Shepard, Aarin | x |
| 61 | Rother, Brandon | Nakunz, Bryce | x |
| 62 | Saldivar, Steven | Gutierrez, Jesse | x |
| 63 | Santos, Ethan | Ferry, Jamie | x |
| 64 | Sham, Caden | Sham, Justo | x |
| 65 | Simmons, Chase | Brown, Jake | x |
| 66 | Soto, Ashley | Soto, Rick | x |
| 67 | Soto, Ethan | Reed, Brian | x |
| 68 | Steelmon-Hill, Connor | MIller, Tyler | x |
| 69 | Thoman-Smith, Tiana | Esterson, Breeanne | x |
| 70 | Torres, Eddie | Torres, Max | x |
| 71 | Velasco, Cameron | Velasco, Alex Jr | x |
| 72 | Velasco, Martin | Fisher, Dominic | x |
| 73 | Velasco, Xander | Clay, Dious | x |
| 74 | Weed, Jason | Goodrich, Greg | x |
| 75 | Weitzman, Tyler | Weitzman, Hilary | x |
| 76 | Yamanhoa, Adrian | Salverda, Tyler | x |
| 77 | Yamatsuka, Drew | Chun, Samuel | x |
| 78 | Yamauchi, Joshua | Yamauchi, David | x |
| 79 | Yukihiro, Kaitlynn | Kimura, Brayden | x |
| 80 | Zieg, Allex | Marmolejo, Michael | x |
| | | | |
| | WAITING LIST | | |
| 1 | Katz, Timothy | Katz, Timothy's dad | x |
| 2 | Lee, Henry | Sarreal, Joseph Jr | x |
| 3 | Scharton, Connor | Rosales, Memo | x |
| 4 | Perham, Tristan | Morris, Jeremy | x |
| 5 | Wang, Mark | Wang, Matt | x |
| 6 | Jorge, Ethan | ? | x |
| 7 | Matherly, Cayden | ? | x |
| 8 | Meraz, Zoey | ? | x |
| 9 | Escurel, RJ | Escurel, Cameron | x |