MOUNTAIN INVITATIONAL at BIG DADDY'S SUNSET BOWL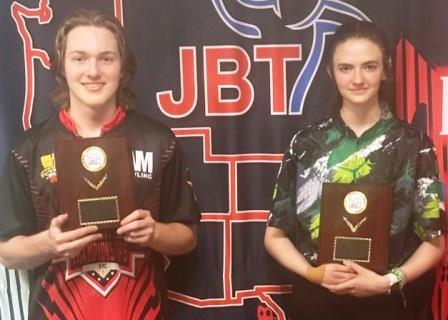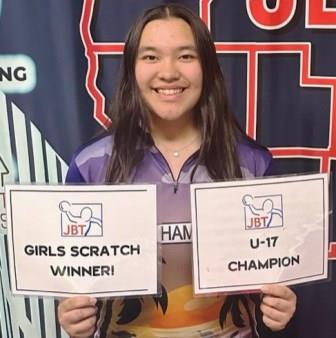 champs Dmitri Richardson, Rebecca Wilson, Avery Domaguin
Dmitri Richardson and Rebecca Wilson earned $1,000 scholarships each as champions of the 2023 JBT Mountain Conference Invitational tournament, hosted by Big Daddy's Sunset Bowl in Pueblo.
After five qualifying games, top scorers and season-long point leaders advanced to exciting triple-elimination matchplay. Richardson dominated the scratch event from start to finish, earning the #1 seed, and going 8-0 in matchplay before finally losing to #4 Clayton Hobbs. This triggered a multi-round merry-go-round between those two and #14 Phoenix Chavez, with Chavez eventually bowing out in third, and leaving Hobbs needing to beat Dmitri twice to swipe away the title. The hard-throwing Hobbs was able to win the first game, but Richardson remained unperturbed, rebounding to win game two and the title, the second of his JBT career. Clayton earned $500 for second, and Phoenix added $300 for third.
In the handicap division, Carson Belnap continued a dream weekend, after winning the day before, by qualifying fifth for matchplay, then blowing through the field at an undefeated 8-0, including an elimination of top seed Kloey Kielich in six. That left three bowlers, and in that round Carson got a bye, while #11 Wilson eliminated #7 Donald Gallegos, leaving Rebecca in the unenviable position of having to beat Belnap three games in a row to win the title. She won a close first game, and you could feel the tide turning from there. Carson bowled well, but Wilson was unflappable, striking late in all three games, the last few sealing the deal in the finale, completing the 3-0 comeback and earning her second JBT title. Belnap's runner-up finish still earned him $900 on the weekend, while Gallegos was consoled with $300 for third.
The subdivisions belonged to Avery Domaguin. She got by Katie Perez to win Girls Scratch, and beat Richardson (no small feat this day) to earn the U17 titles, each a $200 prize for a $400 scholarship payday.
In total, $5,994 in scholarships were earned by bowlers of all ages and skill levels, and over $9,000 on the weekend! Huge thanks to the team at Big Daddy's for their usual great hosting job, and our title sponsors the Brands of Brunswick, and IAM bowling for all they do for the Tour. The top season-long bowlers now advance to the Touring Players Championship, competing against the best of the Tour's best for the most prestigious title of the season!
Mountain Invitational- final results and scholarship winners

5/21/2023

Scratch Division

rank

bowler

prize

1

Dmitri Richardson

$1,115

2

Clayton Hobbs

$500

3

Phoenix Chavez

$300

4

Thomas Lawrence

$200

5

Will Davis

$164

6

Lucas Finley

7

Josh Molloy

$44

8

Montana Cdebaca

9

Nicholas Barrieault

10

Kendall Bollea

$28

11

Brock Bivins

$50

12

Avery Domaguin

$400

13

Carlos Estrada

$50

14

Cayden Matherly

$50

15

Jaxson Garton

16

Tyler Romine

17

Lucius Sandoval

18

Harper Schmidt

19

Diego Lujan

20

Ian Silva

21

Kallista Fritts

22

Joshua Ruehlen

23

Noah Saul

24

Aiden Ruiz-Jimenez

$20

x

Katie Perez

$100

x

Gabriel Chavez

x

Kinzie Temple

Handicap Division

1

Rebecca Wilson

$1,000

2

Carson Belnap

$500

3

Donald Gallegos

$300

4

Kloey Kielich

$309

5

Finn Schillinger

$230

6

Jordan Wisthoff

$150

7

Angela Romero

$209

8

Isaac John

$50

9

Kamryn Kelsey

$109

10

Peyton Lee

$20

11

Shaiden Raymond

$50

12

Ivan John

13

Xaden Todacheenie

$50

14

Kylie Belnap

15

Land Matthies

$50

16

Peyton DeMerritt

$50

17

Addisyn Hayden

18

Sammy Archer

19

Cayden Woodie

20

Hunter Williams

21

Landon Stewart

22

Alberto Medina

23

Elijah Smith

24

Mia Medina

25

Josie Herson

26

Alyssa Burks

27

Talyn Pacheco

28

Sam Sitler

29

Brenden Depew

30

Mason Vandeventer

31

Brent McIntire

32

Chase Collins

33

Alexis Belnap

34

Quintin Meyer

U-17

Girls Scratch

1

Richardson +95

Domaguin +50*

2

Domaguin +50*

K Perez +17

3

Hobbs +48

Bollea +13

4

Garton +24

Kielich +10

5

Bollea +13

Kelsey -45

6

Kielich +10

A Romero -71

7

Romine -18

M Cdebaca -73

8

C Belnap -50

P Lee -80

9

Schmidt -80

K Belnap -134

10

Raymond -100

Ki. Temple -141

Qualifying Leaders

Scratch

Handicap

1

Richardson +95

Kielich +130

2

L Finley +55

Ivan John +121

3

Domaguin +50

Kelsey +90

Round Leaders

Scratch

Handicap

1

Domaguin

Kielich

2

Garton

Kielich

3

Richardson

Kielich

4

Richardson

Kielich

5

Richardson

Kielich

Scratch High Game

1

Richardson 279

2

Richardson 268

3

Hobbs 257

4

T Lawrence 257

5

Richardson 250

Handicap High Game

1

Kielich 269

2

A Romero 267

3

Ivan John 259

4

C Belnap 258

5

Kelsey 258

TOTAL AWARDED THIS EVENT: $5,994
Date: Sunday May 21, 2023 (This is ONE tournament that is one day long, open only to those who qualified for it based on their performance this season (see below).
**Please note the date and location change for this event!
Start Time: Bowling begins at 9:30 AM.
Re-entries?: There's only one qualifying squad, so there are no re-entries this event..
Reservations: Please email director@bowljbt.com to reserve a spot. The tournament will not sell out- if you qualified, we will have room for you, but please still email us so we can plan an efficient event. You can prepay (not required) at the 'Prepaying' section of this website.
Eligibility: The Mountain Invitational is open to anyone who EITHER had a top-4 finish in a Mountain Conference event this season, OR the top 32 in the Mountain Conference points standings after the last regular season Mountain Conference event (the day before at Big Daddy's). Also, simultaneous with the main Invitational are the Girls Scratch and U17 Invitationals; (it is possible you may qualify for only the Girls and/or U17 Invites but not the main Invite; in that case you still bowl the qualifying round but cannot make the main Invite cut). Visit the 'statistics' section of the website to check on your points.
Format: Qualifying round is 5 games. The top 5 season-long point scorers earn a bye into the finals (but are still playing for their seeding within the finals). The bext 11 bowlers also qualify for the finals, so 16 total bowlers. Finals are triple elimination matchplay- keep bowling until you lose three times, which will eventually leave only one bowler- the champion- standing.
Divisions/ Averages: Scratch or handicap. It is the bowlers' choice of division, regardless of which division you bowled in to qualify for this event.
Points: This event counts for TRIPLE Mountain and All-Conference points. After the Invitational, the top 20 in the final Mountain Conference points standings advance to the Touring Players Championship, July 27-30 in Las Vegas, with $2,500 first place scholarships. Visit the 'statistics' section of the website to check on your points.
Entry fee: $60. Scholarship brackets are available for $2 each. Raffle tickets for Ebonite bowling balls, and our PowerBowl and '27' jackpots, are available on-site.
Sponsor Incentive bonuses: 1) IAM Bowling: Bowlers making the final match of an event (scratch or handicap) wearing an IAM patch (good), any IAM shirt (better), or an IAM JBT shirt (best) earn point bonuses towards a $5,000 IAM incentive jackpot. (The IAM patch is requested to be worn by all bowlers). 2) Virtue Bowling: Bowlers making the final match of an event (scratch or handicap, win or lose), using a Virtue Bowling shirt or patch, and a Virtue drilled ball, earn a $25 Virtue gift card.
Scholarships: 1:6 in each division earn scholarships, scratch and handicap. Minimum prizes are $1,000, $500, $250, $125, $100. The top 5 in points heading into the event earn a minimum $60 scholarship regardless of finish in the event.
Lane conditions: conditions vary from event to event, and are not posted prior to the event (unless otherwise announced). Some events do not post the pattern until after qualifying. Be ready for anything- it makes you a better bowler! Check out previous patterns and corresponding cut scores at the 'lane conditions' section of this website.
Dress code: Anything goes EXCEPT tank tops, gym shorts, clothing promoting alcohol, drugs, or firearms, or excessively ripped or short clothing, subject solely to the director's discretion. However, bowlers wearing slacks or dress shorts/skirts, and a 'name shirt' or PBA-style 'dye-sub' shirt, or college or high school team shirt, earn an extra 10 points on their season-long points total. If you're not sure about dress code, check with us. If you're new to us, the vast majority of the bowlers do dress in the 'bonus' dress code, and those points become very important, so plan accordingly.
We hope you qualify for this prestigious event- do not miss it if you do!