SUNSET LANES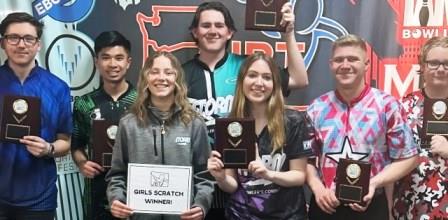 champs and finalists
Josh Abigania and Braeden Doolin picked up JBT titles in our Tour's initial visit to Utah, in exciting Mojave Conference action at Sunset Lanes in St. George.
Finalists bowled a modified two-game stepladder, with the 4-3-2 seeds all playing in order to face the top qualifier. In the scratch division, the 3 seed Josh Abigania doubled in the tenth frame for a 181 game that was just enough to edge Dominic Montoya's 178 and Cole Telford's 151. Top seed Riley Woodard, the 2020 Main Event champion, had impressed again here, but could not get comfortable on the title match pair, while Josh was clutch with strikes in the tenth frame once again, earning his 7th career JBT title with the 211-178 win over Riley.
In the handicap division, the 2 seed defended their place, as Braeden Doolin's 235 effort got past Sterling Smith's 212 and Austin Nash's 225. A fellow Las Vegan, Ryann Clark, led the event with solid bowling all day in search of her second title. However, she struggled in the final game while Doolin got more confident with each shot, eventually pulling away with the win for his first career JBT title.
Daryus Alo picked up the day's U17 victory with a win over Brandon Rother, while Utah's Lizzy Rees beat Kendall Bollea for the girls scratch subdivision win. Huge thanks to the team at Sunset for an outstanding job hosting our Tour for the first but definitely not the last time. Want in on all this fun for all ages and skill levels? Just check out our schedules and come on down!
Sunset (St. George) (Sat)- final results and scholarship winners
4/1/2023
Scratch Division
rank
bowler
prize
1
Josh Abigania
$400
2
Riley Woodard
$225
3
Dominic Montoya
$150
4
Cole Telford
$125
5
Seth Stovall
$100
6
Robert Lawrence
$117
7
Brock Bivins
$60
8
Nic Rees
9
Lizzy Rees
$50
10
Brandon Rother
11
Kendall Bollea
$73
12
Daryus Alo
$65
13
Mike Jones
14
Sebastian Huffman
15
Elijah Nebres
16
Hayden King
17
Chris Lellos
18
Vincent Jablonski
19
Manny Ferrell
20
Luke Brown
21
JR Barczyszyn
22
Ezekiel Trejo
23
Mason Snow
24
Andrew Guba
25
Brendan Bobersky
26
Gyrus Alo
$20
27
Katelyn Abigania
28
Grant Keller
29
Gavin Fernandez
30
Ely Salcedo
31
Ryder Hudson
32
Wade Christianson
33
Bryce Nakunz
34
Thomas Lawrence
35
Tristan Brown
36
Joshua Collings
37
Leoangelo Salcedo
38
Cayden Matherly
39
Aiden Ruiz-Jimenez
40
Kaden Anderson
41
Carter Tomaszewski
Handicap Division
1
Braeden Doolin
$400
2
Ryann Clark
$214
3
Sterling Smith
$165
4
Austin Nash
$125
5
Brayden Miller
$100
6
Evenlynn Bollea
$75
7
Peyton Lee
$57
8
Jake King
9
Jack Lilenthal
10
Nathan Harnit
11
Bryan Gregson
12
Shelby Mathews
13
Rennen Ludwig
14
Tyson Lopes
15
Tayton Bundy
16
Adi Telford
$14
17
Ella Phelps
18
Devin Montoya
19
Nash Carlson
20
RJ McNutt
21
Ethan Samson
22
Gage Baker
23
Jon Abigania
24
Jakob Enright
25
Shatyl Denevan
26
Shaylee Ruoti
27
JT Verde
28
Noel Gregorich
29
Ahna Mathews
30
Gage Sapp
31
Nicholas Harnit
U-17
Girls Scratch
1
D Alo +34
L Rees +3
2
Rother +10
Bollea -51
3
Bollea -51
R Clark -89
4
N Rees -46
K Abigania -136
5
Stovall -59
P Lee -167
6
Jablonski -60
E Phelps -260
7
Nebres -63
A Telford -298
8
Huffman -70
S Denevan -306
9
Ferrell -82
S Mathews -340
10
L Brown -86
N Gregorich -366
Qualifying Leaders
Scratch
Handicap
1
Woodard +140
R Clark +91
2
J Abigania +65
S Smith +61
3
Dom. Montoya +54
J King +48
Round Leaders
Scratch
Handicap
1
Dom. Montoya
J King
2
Dom. Montoya
J King
3
Dom. Montoya
E Bollea
4
Woodard
R Clark
5
Woodard
R Clark
6
Woodard
R Clark
7
Woodard
R Clark
Scratch High Game
1
Dom. Montoya 279
2
D Alo 276
3
Woodard 252
4
Rother 248
5
R Lawrence, J Abigania 245
Handicap High Game
1
Doolin 268
2
S Smith 261
3
R Clark 252
4
Doolin 246
5
B Miller 244
TOTAL AWARDED THIS EVENT: $2,535
THIS EVENT IS NEARING OR AT SELLOUT. Please review the list below and contact us if your plans have changed, and email us as soon as possible if you would like to reserve a spot.
Date: Saturday April 1, 2023 (This is ONE tournament that is one day long, open to anyone age 21 & under as of 8/1/22).
Start Time: Bowling begins at 1 PM.
Re-entries?: There's only one qualifying squad, so there are no re-entries this event..
Reservations: Please email director@bowljbt.com to reserve a spot. You can prepay (not required) at the 'Prepaying' section of this website, or scan this QR code to use Venmo:

. Reservations (paid or unpaid) must check in no later than 15 minutes before start time. At that time, all bowlers will be taken on a first come, first serve basis until the field is full.
Format: Qualifying round is 5 games. The top 40% bowl advance and bowl two additional games, with the top 4 bowling a stepladder finals. Format details may (very rarely) be adjusted any time up until event start time if space/time necessitates.
Divisions/ Averages: Scratch or handicap. It is the bowlers' choice of division. Also, everyone age 16 or under as of 8/1/22 is automatically entered in the U-17 side event. Also, every female is automatically entered in the Girls Scratch side event. If this is your first JBT event this season, we will be asking for average info. In most cases, your highest average from any current form of organized competition of at least 15 games is what we need. If you bowl in multiple leagues / clubs, bring everything and we'll sort it out for you. If you don't have 15+ games in any organized competition this season, we need your finishing 21-22 average, and any 2022 summer averages. After your first JBT event, your average is re-rated before every JBT event according to JBT rules. Please see JBT Rule 13 for complete details.
Points: This event counts for Mojave Conference, and All-Conference points. Points qualify you for the big money season-ending Invitationals and Touring Players Championship, so get all you can. Visit the 'statistics' section of the website to check on your points. As the end of the season, the top 32 in Mojave Conference points, plus anyone who had a top-4 finish in a Mojave Conference event this season, advance to their respective Invitationals.
Entry fee: $60. Scholarship brackets are available for $2 each. Raffle tickets for Ebonite bowling balls, and our PowerBowl and '27' jackpots, are available on-site.
Sponsor Incentive bonuses: 1) IAM Bowling: Bowlers making the final match of an event (scratch or handicap) wearing an IAM patch (good), any IAM shirt (better), or an IAM JBT shirt (best) earn point bonuses towards a $5,000 IAM incentive jackpot. (The IAM patch is requested to be worn by all bowlers). 2) Virtue Bowling: Bowlers making the final match of an event (scratch or handicap, win or lose), using a Virtue Bowling shirt or patch, and a Virtue drilled ball, earn a $25 Virtue gift card.
Covid details: JBT events follow- at least- all local Covid safety protocols, which you must be prepared for. Please stay posted so you're not surprised about anything required of you.
Scholarships: 1:6 in each division earn scholarships, scratch and handicap. Minimum prizes are $300, $150, $100, $60. Bowlers must finish in the top 4 once this season to qualify for that conference's Invitational, which features $1,000 for first place. Bowlers who finish in the top 20 in a conference's points race, or the top 100 in all-conference points, qualify for the Touring Players Championship, featuring $2,500 for first.
Lane conditions: conditions vary from event to event, and are not posted prior to the event (unless otherwise announced). Some events do not post the pattern until after qualifying. Be ready for anything- it makes you a better bowler! Check out previous patterns and corresponding cut scores at the 'lane conditions' section of this website.
Dress code: Anything goes EXCEPT tank tops, gym shorts, clothing promoting alcohol, drugs, or firearms, or excessively ripped or short clothing, subject solely to the director's discretion. However, bowlers wearing slacks or dress shorts/skirts, and a 'name shirt' or PBA-style 'dye-sub' shirt, or college or high school team shirt, earn an extra 10 points on their season-long points total. If you're not sure about dress code, check with us. If you're new to us, the vast majority of the bowlers do dress in the 'bonus' dress code, and those points become very important, so plan accordingly.
RESERVED BOWLERS:
This reservation is an expectation that you will be bowling. PLEASE do not forget to contact us if you need to cancel or adjust your reservation. Repeated 'no-shows' may result in you not being able to reserve a spot. This list may not be updated after the Friday of the event as we travel, etc. However, walk-ins / late entries are still gladly accepted as space permits. There is generally plenty of room for walk-ins / late entries, and we'll post here clearly if an event is nearing sellout or sold out.
THIS EVENT IS NEARING OR AT SELLOUT. Please review the list below and contact us if your plans have changed, and email us as soon as possible if you would like to reserve a spot.
| | | |
| --- | --- | --- |
| no. | bowler | 1 PM Sat |
| 1 | Ashworth, Kennedee | x |
| 2 | Abigania, Jon | x |
| 3 | Abigania, Josh | x |
| 4 | Abigania, Katelyn | x |
| 5 | Alo, Daryus | x |
| 6 | Alo, Gyrus | x |
| 7 | Anderson, Kaden | x |
| 8 | Baker, Gage | x |
| 9 | Barczyszyn, JR | x |
| 10 | Bivins, Brock | x |
| 11 | Bobersky, Brendan | x |
| 12 | Bollea, Evelynn | x |
| 13 | Bollea, Kendall | x |
| 14 | Brooks, Doug | x |
| 15 | Brown, Luke | x |
| 16 | Bundy, (Angy) | x |
| 17 | Carlson, Nash | x |
| 18 | Christiansen, Wade | x |
| 19 | Clark, Ryann | x |
| 20 | Denevan, Shatyl | x |
| 21 | Doolin, Braeden | x |
| 22 | Enright, Jakob | x |
| 23 | Ferell, Manny | x |
| 24 | Fernandez, Gavin | x |
| 25 | Gregorich, Noel | x |
| 26 | Gregson, Bryan | x |
| 27 | Guba, Andrew | x |
| 28 | Harnit, Nathan | x |
| 29 | Harnit, Nicholas | x |
| 30 | Hudson, Ryder | x |
| 31 | Huffman, Sebastian | x |
| 32 | Jablonski, Vincent | x |
| 33 | Jones, Mike | x |
| 34 | Keller, Grant | x |
| 35 | King, Hayden | x |
| 36 | King, Jake | x |
| 37 | Lawrence, Robert | x |
| 38 | Lawrence, Thomas | x |
| 39 | Lee, Peyton | x |
| 40 | Lellos, Chris | x |
| 41 | Lilenthal, Jack | x |
| 42 | Lopes, Tyson | x |
| 43 | Ludwig, Rennen | x |
| 44 | Matherly, Cayden | x |
| 45 | Mathews, Ahna | x |
| 46 | Mathews, Shelby | x |
| 47 | McNutt, RJ | x |
| 48 | Miller, Brayden | x |
| 49 | Montoya, Devin | x |
| 50 | Montoya, Dominic | x |
| 51 | Nakunz, Bryce | x |
| 52 | Nash, Austin | x |
| 53 | Nebres, Elijah | x |
| 54 | Phelps, Ella | x |
| 55 | Rees, Lizzy | x |
| 56 | Rees, Nic | x |
| 57 | Rother, Brandon | x |
| 58 | Ruiz-Jimenez, Aiden | x |
| 59 | Ruoti, Shaylee | x |
| 60 | Salcdedo, Leoangelo | x |
| 61 | Salcedo, Ely | x |
| 62 | Samson, Ethan | x |
| 63 | Sapp, Gage | x |
| 64 | Snow, Mason | x |
| 65 | Soliai, McKay | x |
| 66 | Springer, Freeman | x |
| 67 | Stovall, Seth | x |
| 68 | Telford, Cole | x |
| 69 | Tomaszewski, Carter | x |
| 70 | Trejo, Ezekiel | x |
| 71 | Verde, JT | x |
| 72 | Wilkins, Tyson | x |
| 72 | Woodard, Riley | x |
| 72 | Brown, Tristan | x |
| | | |
| | WAITING LIST | |
| 1 | Collings, Joshua | x |
| 2 | Gillespie, Jackson | x |
| 3 | Smith, Sterling | x |
| 4 | Telford, Adi | x |
| 5 | Fernandez, Gavin | x |
| 6 | Davis, Mason | x |
| 7 | Foy, Korbin | x |
| 8 | Robison, Briggs | x |
| 9 | | |