KEYSTONE LANES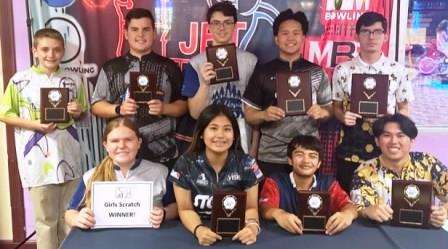 champs and finalists!
Anyone you spell it, Steven (or Stevan) became JBT champions (or champs) in thrilling JBT Southern California (or So Cal) Conference JBT action at Keystone Lanes in Norwalk.
After qualifying, top bowlers moved on to always exciting matchplay rounds. Down to four semifinalists in each division remaining, scratch saw Steven Tacto eliminate Katelyn Abigania, while Brandon Rother stopped Nicholas Harnit, to set up the final. That game turned out to be a high scoring thriller. Tacto, bowling brilliantly for a second straight day after moving to scratch after losing the final the day before, went spare strike in his tenth, forcing Brandon to double for the win. Rother's first hit wouldn't carry, and the 244-238 final was good for a first career JBT title for the much improved SDSU student!
Stevan Saldivar won one handicap semifinal game over fellow first-time finalist Dylan Ingram, while Jesus Gutierrez Jr beat RJ Escurel in the other match to set up an all-Winnetka Bowl finale. In that match, Stevan continued the best performance of his JBT career with a 240-216 win, good for his first career JBT victory. Lindsay Greim appeared in both subdivision finals and batted .500 as Elias O'Hollaren beat her for the U17 crown, but she defeated Abigania for the second straight day to win Girls Scratch.
Thanks as always to the team at Keystone for hosting a busy event! Want in on all this fun for all ages and skill levels? Just check out our schedule and come on down!
Keystone Lanes- final results and scholarship winners

9/17/2023

Scratch Division

rank

bowler

prize

1

Steven Tacto

$300

2

Brandon Rother

$180

3

Katelyn Abigania

$150

4

Nicholas Harnit

$215

5

Lindsay Greim

$155

6

Elias O'Hollaren

$183

7

Brendan Bobersky

8

Grant Keller

9

Daniel Hong

10

Benaiah McElroy

11

Jude De Leon

12

Prestin Frazee

13

Stepahnie Hong

14

Brent Purugganan

15

Nathan Harnit

16

Gage Baker

17

Jai Kankariya

18

Aaron Calica

19

Lathan Chin

$15

20

Jake King

21

Wyatt McCollum

22

Aarin Shepard

23

Patrick Sablan

24

Elijah Gayton

25

Justin Erickson

$7

26

Avery Domaguin

27

Ethan Santos

28

Ethan Chambers

29

Ryland Pimentel

30

Jazmyn Beck

31

Pamela Faller

32

Bryce Nakunz

33

Ivan Ceballos

34

Martin Velasco

35

Xander Velasco

Handicap Division

1

Stevan Saldivar

$350

2

Jesus Gutierrez Jr

$175

3

Dylan Ingram

$199

4

RJ Escurel

$100

5

Nathaniel Henerson

$80

6

Raeden Pimentel

$98

7

Ian Fiel

$60

8

Aislinn Lubag

$103

9

Tyler Weitzman

10

Ashley Soto

11

Chasen Hou

12

Max Torres

13

Evan Magsino

$40

14

Jacob Major

15

Skyler Chaney

16

Daniel Rios

17

Nicholas Ananyan

18

Cailyn Robey

19

Jon Abigania

20

Joshua Novoa

21

Nicholas Dorn

$15

22

Alexandra McCowan

23

Harvey Howe

24

James McGough

$15

25

Bailey Villegas

26

Anthony Garcia

27

Caden Sham

$45

28

Ezekiel De Guzman

29

Yairi Lubag

30

Garrett Purugganan

31

Wiley Eubanks

32

Britton Keene

33

Cameron Velasco

34

Tyler Ros

35

Ryan Sands

36

Brianna Asfall

37

Nathan Dorn

38

Zoey Meraz

39

Jacob mcGough

40

Neel Kankariya

41

Kaili Purugganan

42

Hannah McGough

43

Jayden Macias

44

Eddie Torres

45

Ileana Garcia

U-17

Girls Scratch

1

L Greim +174

L Greim +174

2

O'Hollaren +129

K Abigania +93

3

K Abigania +93

S Hong +42

4

McElroy +90

A Soto -36

5

DeLeon +83

Domaguin -41

6

Nicholas Harnit +70

McCowan -82

7

Rother +53

Beck -100

8

B Purugganan +40

Faller -107

9

Nathan Harnit +30

A Lubag -125

10

Baker +27

C Robey -195

Qualifying Leaders

Scratch

Handicap

1

L Greim+174

Saldivar +180

2

O'Hollaren +129

Weitzman +151

3

D Hong +121

A Soto +129

Round Leaders

Scratch

Handicap

1

Tacto

Weitzman

2

Tacto

Saldivar

3

L Greim

Saldivar

4

L Greim

Saldivar

5

L Greim

Saldivar

Scratch High Game

1

Frazee 299

2

McCollum 269

3

B Purugganan 267

4

K Abigania 266

5

McElroy 265

Handicap High Game

1

Saldivar 288

2

Escurel 281

3

Saldivar 281

4

Escurel 272

5

Soto, Henerson 267

TOTAL AWARDED THIS EVENT: $2,495
Date: Sunday September 17, 2023 (This is ONE tournament that is one day long, open to anyone age 21 & under as of 8/1/23).
Start Time: Bowling begins at 9 AM.
Re-entries?: There's only one qualifying squad, so there are no re-entries this event..
Reservations: Please email director@bowljbt.com to reserve a spot. You can prepay (not required) at the 'Prepaying' section of this website. Reservations (paid or unpaid) must check in no later than 15 minutes before start time. At that time, all bowlers will be taken on a first come, first serve basis until the field is full.
Format: Qualifying round is 5 games. The top 40% advance to round two. Round two formats vary week to week to keep it fresh and exciting, and are released no later than the week of the event.
Divisions/ Averages: Scratch or handicap. It is the bowlers' choice of division. Also, everyone age 16 or under as of 8/1/23 is automatically entered in the U-17 side event. Also, every female is automatically entered in the Girls Scratch side event. If this is your first JBT event this season, we will be asking for average info. In most cases, your highest average from any current form of organized competition of at least 15 games is what we need. If you bowl in multiple leagues / clubs, bring everything and we'll sort it out for you. If you don't have 15+ games in any organized competition this season, we need your finishing 22-23 average, and any 2023 summer averages. After your first JBT event, your average is re-rated before every JBT event according to JBT rules. Please see JBT Rule 13 for complete details.
Points: This event counts for So Cal and All-Conference points. Points qualify you for the big money season-ending Invitationals and Touring Players Championship, so get all you can. Visit the 'statistics' section of the website to check on your points. At the end of the season, the top 32 in So Cal points, plus anyone who had TWO top-5 finishes in So Cal events this season, advance to their respective Invitationals.
Entry fee: $60. Scholarship brackets are available for $2 each. Raffle tickets for bowling balls from the brands of Brunswick, and our PowerBowl and '28' jackpots, are available on-site.
Sponsor Incentive bonuses: 1) IAM Bowling: Bowlers making the final match of an event (scratch or handicap) wearing an IAM patch (good), any IAM shirt (better), or an IAM JBT shirt (best) earn point bonuses towards a $5,000 IAM incentive jackpot. (The IAM patch is requested to be worn by all bowlers). 2) Virtue Bowling: Bowlers making the final match of an event (scratch or handicap, win or lose), using a Virtue Bowling shirt or patch, and a Virtue drilled ball, earn a $25 Virtue gift card. (These sponsorships are pending final renewal for the new season.)
Covid details: JBT events follow- at least- all local Covid safety protocols, which you must be prepared for. Please stay posted so you're not surprised about anything required of you.
Scholarships: 1:6 in each division earn scholarships, scratch and handicap. Minimum prizes are $300, $150, $100, $60. Bowlers must finish in the top 5 twice this season in that conference to qualify for that conference's Invitational, which features $1,000 for first place. Bowlers who finish in the top 20 in a conference's points race, or the top 100 in all-conference points, qualify for the Touring Players Championship, featuring $2,800 for first.
Lane conditions: conditions vary from event to event, and are not posted prior to the event (unless otherwise announced). Some events do not post the pattern until after qualifying, or even at all. Be ready for anything- it makes you a better bowler! Check out previous patterns and corresponding cut scores at the 'lane conditions' section of this website.
Dress code: Anything goes EXCEPT tank tops, gym shorts, clothing promoting alcohol, drugs, or firearms, or excessively ripped or short clothing, subject solely to the director's discretion. However, bowlers wearing slacks or dress shorts/skirts, and a 'name shirt' or PBA-style 'dye-sub' shirt, or college or high school team shirt, earn an extra 10 points on their season-long points total. If you're not sure about dress code, check with us. If you're new to us, the vast majority of the bowlers do dress in the 'bonus' dress code, and those points become very important, so plan accordingly.
RESERVED BOWLERS:
This reservation is an expectation that you will be bowling. PLEASE do not forget to contact us if you need to cancel or adjust your reservation. Repeated 'no-shows' may result in you not being able to reserve a spot. This list may not be updated after the Friday of the event as we travel, etc. However, walk-ins / late entries are still gladly accepted as space permits. There is generally plenty of room for walk-ins / late entries, and we'll post here clearly if an event is nearing sellout or sold out.
no.

bowler

9 AM Sun

1

Ananyan, Nicholas

x

2

Baker, Gage

x

3

Beck, Jazmyn

x

4

Bobersky, Brendan

x

5

Ceballos, Ivan

x

6

Chambers, Ethan

x

7

Chaney, Skyler

x

8

Dorn, Nathan

x

9

Dorn, Nicholas

x

10

Erickson, Justin

x

11

Garcia, Anthony

x

12

Garcia, Iliana

x

13

Greim, Lindsay

x

14

Gutierrez, Jesus

x

15

Hampton, Hilari

x

16

Harnit, Nathan

x

17

Harnit, Nicholas

x

18

Henerson, Nathaniel

x

19

Hernandez, Johnathan

x

20

Howe, Harvey

x

21

Ingram, Dylan

x

22

Keene, Britton

x

23

Keller, Grant

x

24

King, Jake

x

25

Kollstedt, Mason

x

26

Lubag, Aislinn

x

27

Lubag, Yairi

x

28

Macias, Jayden

x

29

Magsino, Evan

x

30

McCollum, Wyatt

x

31

McElroy, Benaiah

x

32

McGough, Hannah

x

33

McGough, Jacob

x

34

McGough, James

x

35

Nakunz, Bryce

x

36

Novoa, Joshua

x

37

Piper, Zane

x

38

Purugganan, Brent

x

39

Purugganan, Garrett

x

40

Purugganan, Kaili

x

41

Robey, Cailyn

x

42

Ros, Tyler

x

43

Rother, Brandon

x

44

Sablan, Patrick

x

45

Saldivar, Stevan

x

46

Samarin, Benjamin

x

47

Schwegel, Chase

x

48

Senkiw, Daniel

x

49

Sham, Caden

x

50

Soto, Ashley

x

51

Soto, Ethan

x

52

Thoman-Smith, Tiana

x

53

Wang, Jerry

x

54

Weitzman, Tyler

x

55

Pimentel, Ryland
56
Pimentel, Raeden
57
Escurel, RJ
58
Hong, Daniel
59
Hong, Stephanie
60
Shepard, Aarin
61